90 Day Fiance Season 1 couple Kirlyam and Alan Cox welcomed their first child together, son Liam, in October — and the good fortune continues to fall on the fan-favorite couple as Alan made his way onto The Price Is Right and won The Showcase Showdown!
Alan was in the first group of contestants called to "Com on down!" on the show's last episode of the year, and Alan jubilantly jumped up and down while hugging Kirlyam — both of them wearing matching Price Is Right shirts with show host Drew Carey printed in a very provocative location.
Alan kicked things off by bidding on three pairs of Louboutin high heels — which I'm sure Kirlyam was super excited about. Unfortunately, Alan's bid of $1,570 was a bit too far under the $2,265 retail price and he missed out. (All I could think of at this point is what if that had been Jorge instead of Alan — I bet we could have heard Anfisa's screams from the audience! LOL)
Alan's bad luck continued until the second half of the show when he got the chance to bid on four Michael Kors smart watches (above) — two for him and two for her. Alan bid $1,200 and won by being just $25 under the actual retail price of $1,225!
After winning the bid, Alan jumped and danced some more and then went ALL OUT in front of the bid podiums by showing off his breakdancing skills doing the Worm! Here's a photo montage and animated gif of Alan's celebration: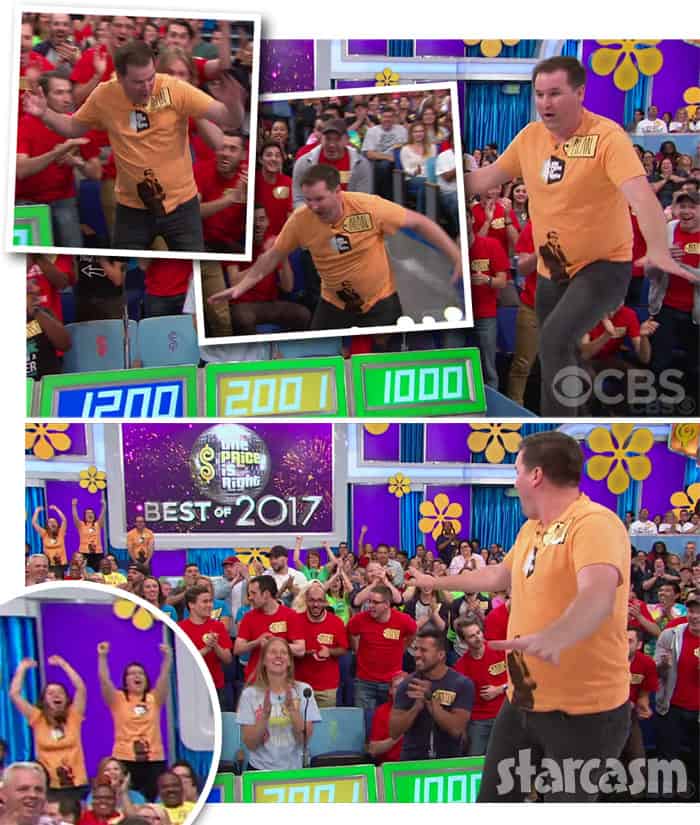 Drew, and the crowd, and me LOVED it! (That animated gif is EVERYTHING!)
Alan was then given the opportunity to play "Pick A Number" for a chance to win a home gym, complete with a large screen LED TV. All he had to do was fill in the first number of the retail price for the three items with the options of either $4,594, $5,594 or $7,594. Alan guessed $4,594 but the actual retail price was $7,594. WOMP, WOMP…
Given that he lost his game, Alan was the first to spin the Big Wheel for a chance to occupy the second spot in The Showcase Showdown. As the Big Wheel spun, Drew asked him "Who do you want to say 'Hi' to?"
"I want to say 'Hi" to my wife Kirlyam, [inaudible], my parents, all my sisters, my buddy Kent, and everybody else."
Alan got the unfortunate result of .55 on his first spin, and he elected to spin again. As the Big Wheel was turning for a second time, Alan made a prayer gesture with his hands. The game show gods must have been watching because he got .40, adding up to a very difficult to beat .95!
Neither of the other two contestants were able to beat Alan's .95 and he was off to The Showcase Showdown!
OK, here is the very short list of the items included in the showcase that Alan bid on, which was the very last showcase of 2017:
Trip for two to Fiji with a six-night stay in a premium ocean-front room at The Pearl Resort. (Includes one massage each)

Red Mazda MX-5 Miata convertible!!!
Alan's bid was $34,440 on the two items.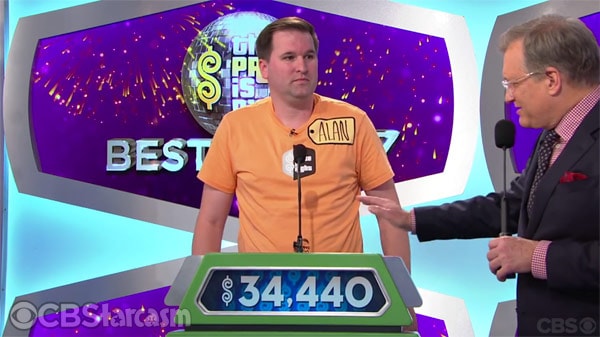 I will start with the other finalist, Valerie, who bid $30,777 on her showcase, which included two trips and a Mini Cooper. The actual retail price on hers was $35,342. That's a difference of only $4,565. That's pretty close!
As I mentioned, Alan bid $34,440 on his showcase and the actual retail price was… $34,911 for a difference of only $471!!! HE WINS! HE WINS!!
I'll let the photos of Alan and Kirlyam tell you how they felt about it:
In case the photos weren't enough, Alan was posting about the episode on social media as it aired, including a lengthy Instagram post explaining that he has been a big fan of The Price Is Right for a LOOOOONG time:
I have always been a huge @therealpriceisright fan. I loved watching it with Bob Barker and continued to love it with Drew Carey. It was one of the most fun experiences in my life. I would have been happy just to have been called to "come on down", but to actually win the showcase showdown was an absolute DREAM! And to top it off I got to share this experience with the love of my life @kirlyam_ , my awesome sister Nicole and my best friend Kent (and a woman we met in line that just figured hey I'll go up too … Hahahaha) thanks to my Mom and Dad for making this all possible by babysitting Liam! Fiji HERE WE COME!! #triptofiji #mazdamiatamx5
More from Alan:
I'm like a lot of fans of the show in that I LOVE this couple, and I could not be happier that they won the trip and the car! I can't wait to see photos of the two of them (with son Liam in a car seat) cruising around in their new Miata. And I also can't wait to see photos from their Fiji vacay!
Congratulations Alan and Kirlyam! What an amazing 2017, amirite?!
You can CLICK HERE to watch the full episode on CBS.com.