Just two days after he was robbed at gunpoint in broad daylight, rapper 2 Chainz was arrested at LAX where police reportedly found Promethazine (a main ingredient in sizzurp) in the rapper's checked luggage. Police also reportedly found marijuana, but less than an ounce.
From TMZ:
According to law enforcement, 2 Chainz was on board an outbound flight waiting to take off when TSA officials discovered the drugs in his checked luggage. He was subsequently removed from the aircraft before it departed, and placed under arrest.
Online records show 2 Chainz (real name Tauheed Epps) was arrested at 1:45pm and booked at 6pm PST today at LAPD's Pacific Community Police Station. 2 Chainz was released at 8:27pm after posting a $10,000 bail. Online records indicate his next court appearance is scheduled for June 21 at 8:30am.
UPDATE – 2 Chainz took to Twitter to talk about his arrest (I assume):
That was quick we good y'all, peace

— Tity Boi (2 Chainz) (@2chainz) June 12, 2013
Life gone have its ups and downs , as long as u in the middle u good. So we good yal

— Tity Boi (2 Chainz) (@2chainz) June 12, 2013
In addition to his run-in with an armed robber on Sunday, 2 Chainz was also arrested back in February after Maryland police found marijuana in a white van he was travling in along with six other people. That arrest became a major headline after this photo of two of the cops posing with 2 Chainz went viral: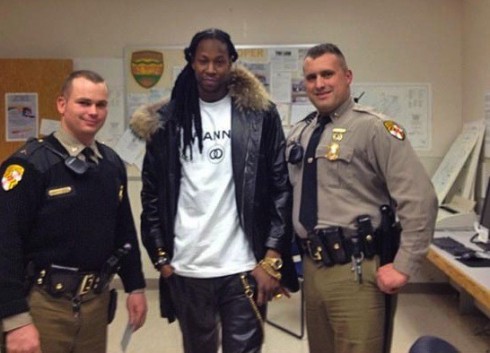 The Maryland marijuana charges were later dropped by a judge because the court was unable to prove the weed was 2 Chainz's. (Or would that be 2 Chainz'?)
Curious about what the heck sizzurp is? Find out more about the infamous "purple drank" here!