Duke student Belle Knox is the most famous adult film star since Farrah Abraham, and she's making the most of all the attention. The university freshman was outed this year for taping p**n during school breaks to pay for school, and she is embracing her Belle Knox identity. She's set to host a web reality competition series called The Sex Factor, and is racking up appearances and interviews.
The college student was inspired by Marilyn Manson for her stage name: combining something sweet (Belle from Beauty & the Beast,) with something controversial and dark (Amanda Knox, who was recently found guilty of the murder of Meredith Kercher for the second time by Italian courts January 2014. She was originally convicted in 2007, but that was overturned on appeal in 2011.)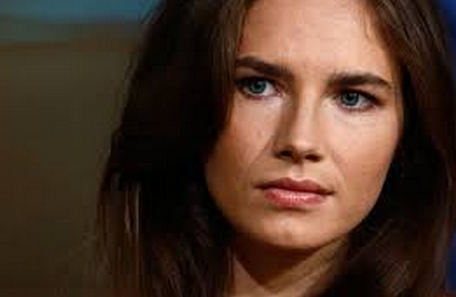 When asked about her fascination with Amanda Knox while on the Opie & Anthony show in March, Belle replied, "Sometimes I just hear about these cases, like the JonBenet Ramsey case, these cases I'll get really fascinated with, and I'll read all the evidence, and then I'll kind of form my own opinion. Amanda Knox, that whole case, just really really fascinates me, and I don't think she's innocent, I think there's something else totally going on. In my personal opinion, I think that her behavior after, the day after when she was doing cartwheels, I think she should have just admitted from the get-go that she was probably high as f**k when all of that was happening."
Even though Belle believes that Amanda may have had something to do with the Meredith Kurcher murder, she hates the way international media has portrayed Amanda Knox by shaming her for being promiscuous and sexual. "I think that the characterization of her as a s**t or Foxy Knoxy or like this promiscuous girl, is really off base," Belle explained. "But I think that something more happened. She claimed that she was at the house and that she heard something when she covered her ears. I think there was more going on, but I do resent the media's characterization of her as like this s**t or Foxy Knox just because she wrote in her diaries that she f**ked some guys."
Belle says she gets some backlash for choosing to go with such a controversial choice for her name. "She was hot, she was gorgeous, and she's intelligent. I think people are offended, actually," she said. "I get some tweets saying 'How dare you name yourself after a murderer.' I just think she's a fascinating person. You know? It's like Marilyn Manson, you know. It's like the cute Belle, and then the Knox."
The Belle part of her name came from Beauty and the Beast's Belle, but Disney isn't very happy about that. They recently barred Belle Knox from doing a photo-shoot at Disneyland.