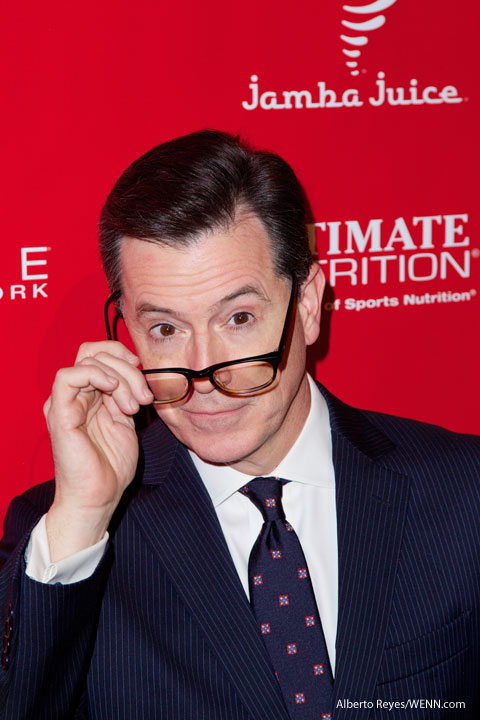 Stephen Colbert has been playing a persona, a skewed version of himself, for 17 years on television, and now he's about to embark on a riskier role: actually being himself on television.
"The character that he's currently doing on Comedy Central will end by the end of the year at Comedy Central and then he will come back on CBS as Stephen Colbert," CBS CEO Les Moonves has said about Colbert taking over for Letterman in 2015. "Those of us who know him know that he is multitalented and can go way beyond the character that he is currently playing. And we're looking forward to that."
Last week James Franco appeared on The Colbert Report and tried to trip him up right before a commercial break, asking if he was going to be a "Democrat" on his new show. Colbert dodged the question without breaking character "Now here's the interesting thing, I don't know what the f**k you're talking about!"
The Colbert Report character is a caricature of a ring-wing pundit personality, an ironic representation of narcissism and doublespeak. He was birthed in 1997 on The Daily Show as a reporter who was painfully and confidently ignorant about the subjects he was interviewing people about. The character evolved into a satire of right-wing pundits when he got his own spin-off show in 2005, The Colbert Report. He's written several books in the character's voice, and not only do they share the same name, but they have the same background. They are both married, they both grew up in South Carolina, etc. It's like Stephen Colbert has been pretending to be pretending to be himself. Although Colbert is mocking the whole modern newsman mentality, he has earnestly expressed an admiration for newsmen. If he didn't have a genuine respect for and interest in the media circus, his spoof would have turned out far more vicious, bitter, and probably even off base.
Although Colbert has played his character at a White House Correspondents' Dinner, at a Congressional Hearing, and even ran for president in character, he does not regale his wife and kids with with his character or bring him out for private dinner parties. "I don't really like the other guy," his wife Evelyn McGee-Colbert has said. "He doesn't come in this house."
He's made a lot of appearances in character, but he's also already shown a more genuine side many times. The real Stephen Colbert recently gave some pretty great advice to young girls via Rookie.com's "Ask a Grown" series, and he's done quite a few interviews out of character.
The funnyman grew up in South Carolina the youngest of 11 children, but tragedy struck at age 10 when his father and two of his brothers died in a plane crash. He's said that he didn't really deal with the weight of their deaths until college, but when it all hit him he says he was in "bad shape." He credits his mother, and her Catholic faith, for helping him get through these dark and uncertain times.
"I'm not bitter about what happened to me as a child, and my mother was instrumental in keeping me from being so," he said in a 2012 NY Times profile piece. "She taught me to be grateful for my life regardless of what that entailed, and that's directly related to the image of Christ on the cross and the example of sacrifice that he gave us. What she taught me is that the deliverance God offers you from pain is not no pain – it's that the pain is actually a gift. What's the option? God doesn't really give you another choice."
As for his politics, Colbert has said that he was practically apolitical before he joined The Daily Show, and has since identified as a Democrat.