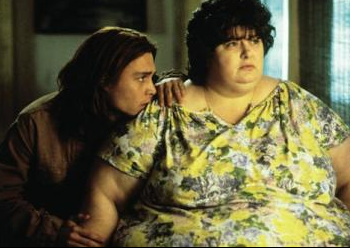 Darlene Cates (now 64) stole a lot of hearts in her role in 1993's What's Eating Gilbert Grape as an obese mom of a large family (including a mentally handicapped played by Leonardo DiCaprio.) Johnny Depp played the title role as another one of her sons. She was discovered by a screenwriter when she appeared on a Sally Jesse Raphael show about people who were too obese to leave their house. Her high weight was 575 pounds.
Now she's lost almost half her weight and is down to 331 lbs. She's still virtually housebound, but she plans to lose another 100 pounds, and hopefully kickstart her acting career. She spoke to The Dallas Morning News in a video that's been making the rounds on the internet.
Darlene has tried unsuccessfully many times to lose weight before, which is what makes her triumph now so amazing. In Darlene underwent an early gastric bypass procedure, lost 100 pounds, but it slowly crept back up. At that time she quipped "That thing that made you fat in the first place? They don't cut that out during surgery." She had a massive health scare last year that landed her in the hospital for almost all of 2011. She had four surgeries and three near-death experiences.
Darlene has been successful with the TOPS: or Take Pounds Off Sensibly weight loss program. She's seeing improvement of her movements due to physical therapy, and no longer suffers complications from diabetes.
About her future acting career "I'm not opposed to doing science fiction, or a comedy or something. But there has to be respect. I refuse to be the joke . . .I can do moms real well. I don't have to delve very deep to find mom in there."
Darlene's appearance onna 1992 episode of Sally Jesse Raphael got her the part in What's Eating Gilbert Grape.
Darlene says she felt liberated by her experience on the talk show.
"I didn't know if … [people] were staring at me because I'm fat or because they recognize me," she said. "And all of a sudden … I am free. It doesn't matter anymore.

People can be cruel, but that doesn't mean you have to take it home, wrap yourself up in it and wear it."
That last sentence is actually an eloquent bit of wisdom.