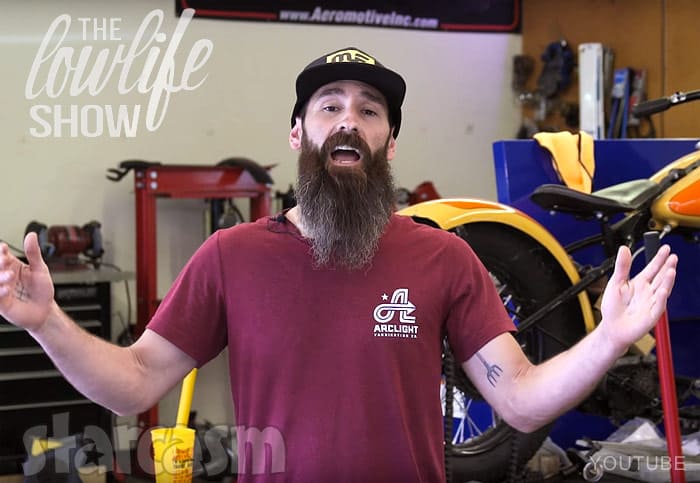 Fast N Loud fans were stunned when it was announced late last year that beloved bearded builder Aaron Kaufmann was leaving the show and Gas Monkey Garage. Aaron has since moved on to found a new company, Arclight Fabrication, and he is returning to the video format as host of the new episode of The Lowlife Show.
The Lowlife Show is a Youtube series documenting many aspects of the automotive custom build world — "from photos, videos, exclusive interviews and so much more!"
The premiere episode was posted four months ago, and it returned with a new installment last week, featuring Aaron as host. Here's the second episode followed by a description of the featured builds:
Gas Monkey fame Aaron Kaufman takes us on an LST flashback. We get a inside look at whats to come from arclightfab.com. We cruise over to Broken Bones Garage and take a look at the "Huckleberry" build. It's 420 Brian Savage place where Trevor White and Clay Beardslee get down on a back half with parts from Slam Specialties and Jason Thorbecke. It's a "Battle in Bama" in Mobile, Alabama. Presented by Metal Brothers Hot rods. Big thanks to Craig Rowley, GSI Machine & Fabrication, Aaron Kaufman, and everyone in the show. Check our site at www.lowlifevideo.com and our blog at www.lowlifevideo.blog Thank You for watching. Stay tuned for more from lowlifevideo.
In addition to hosting the episode, Aaron also shot a video for LowLife Video talking at length about his new project, Arclight Fab, which specializes in 1957-1979 Ford F100s:
For those still in shock over Aaron leaving Fast n' Loud and Gas Monkey Garage, he talks a little bit about his decision to leave on the Arclight Fab website:
Much of the road to here has not been exciting or glamorous …. However there have been some bright spots while at Gas Monkey Garage, a Dallas based hotrod shop. Possibly the brightest spot, having been the tenure on the television show Fast n' Loud, where under extreme deadlines my crew and I built ever increasingly complicated hotrods, racecars and show cars. This gave me an opportunity to explore building styles and techniques that would have taken decades to amass otherwise. Like things tend to do, they change and not all change is for the best, at least not for me. With the obvious fork in the road I had to ask myself what makes you happy and how do we pay the bills doing it. Well, being a truck sorta fellow and a blue blood at that (FORD). I decided to see if I could start to patch the hole in the aftermarket for Ford's F-100 line of trucks. Once again my team and I will take on challenge of a different sort. The rest of this bio starts now…………………….
Congratulations to Aaron on his new venture! Of course, we are like many of his fans in that we hope he continues to find reasons to get in front of the camera and update us all on his work via more videos.
And speaking of Aaron Kaufman videos, I will wrap up this post with an AWESOME short film titled Tick Tock that is essentially Baby Driver with a beard…and Aaron's 1963 Ford Falcon: