I'm not sure what else I need to say other than Amy Schumer recorded an audition tape for Bravo's Real Housewives franchise:
Some highlights from the clip:
INTERVIEWER: Hey Amy. Why do you think you'll make a good Real Housewife?

AMY: Because I am all of those things. I'm real. I'm in the house a lot. I am not a wife, but I have had sex with a lot of married people.

I have a lot of exes. One of them was on a team. I don't want to mention what team because it's not a professional one.
What would you say your tagline is?

I'm Amy, and I may look like a whore [laughs], but I am!

I don't need a man, but I want one. ANY one.

I'm also a good candidate because I will move anywhere. I could be a Real Housewife of, you know, Newark, of Cincinnati — just throwing out ideas for cities.

But that's the kind of stuff you'll find out if you tune in and see me on The Real Housewives of Secaucus.
I dunno, I'm thinkin' Amy might make a good replacement for Brandi Glanville. They're kinda the same, right? Either way, who wouldn't want to see the scene that came after this: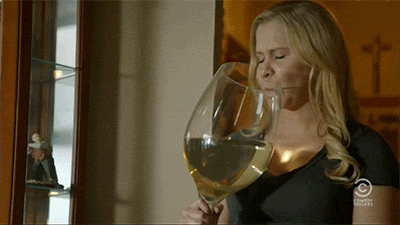 While we all wait anxiously for the premiere of The Real Housewives of Secaucus, be sure to check out Amy's brand new movie Trainwreck, which hits theaters on July 17!