In a new YouTube video on her own channel, Jersey Shore's lovable meatball Nicole "Snooki" Polizza recounted — to the best of her memory because she was super drunk during the process — how she landed the gig that changed her life forever. It honestly changed the rest of our lives as well.
Snooki knew she was gonna be famous one day!
Like many reality stars and celebs, Snooki has always dreamed big. At the very least, she talked a good game with her high school chums. As a teen, Snooki was always telling her friends she'd make it big on reality TV one day…though she never really believed it would happen.
What was Snooki's first reality show?
Although Snooki didn't expect her biggest dreams to ever come true, she still tried to make them happen for herself. In 2009, she appeared on an MTV show called Is She Really Going Out With Him? The show focused on smart, successful, beautiful women who date bad boy "douchebags."
At the time, Snooki was in college, studying to become a medical technician; she appeared on the show with her ex-boyfriend, Justin, who liked spending time with his buddy "Scrotey." Snooki had so much fun doing one episode of that show that she knew for sure she'd found her life's calling. "I love Reality TV! I want to do more," she later said she thought at the time.
Snooki tells the audience to Google the show in her video, but, so far, we haven't been able to find any clips from her episode. Until we can dig one up, here's a screen shot of Snooki on ISRGOWH, looking gorgeous:
We did find the following clip from the show on YouTube, but Snooki is nowhere to be found! Still, it does give a little taste of what the show was like:
Snooki tried out for Real World
Snooki now had reality TV fever so she quickly broke up with the boyfriend she appeared with on the show and went straight to work on a Real World audition tape. She never heard back from Real World producers, so Snooki dedicated herself to finishing up school to become a veterinary technician.
She was just about to finish up when she saw a casting audition on Facebook for "guidos," and the rest is history. (Note: Guido is a term for working-class urban Italian Americans. It's often used in a derogatory way, but the Jersey Shore cast embraced and, one could argue, redefined the word.)
The Jersey Shore audition
Snooki had her hair in her highest poof, a dramatic fur coast and leopard-print dress for her first audition for Jersey Shore. She said she chugged her drink of choice back then: SoCo (Southern Comfort) and really played up the part "I was me," Snooki explained, "but I was like times five, because I really wanted to get on the show. I feel like it was for me."
Snooki now only "chugs" wine or vodka seltzers. She says that now that she's "old" (she's 30) and when she tries to chug SoCo she just throwing up everywhere.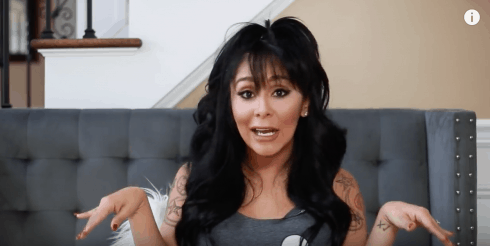 Snooki added that audition kind of felt like a "p0rno" because it was so surreal. She told the producers that she was newly single, loved to go to the shore, and was looking for love. Of course, the casting directors loved Snooki and called her back for more interviews.
They finally asked her to come to a hotel and she thought she had the role in the bag. Once she arrived, however, she saw ten other "guidettes" and she knew she had some major competition. "So thank God I brought vodka in my suitcase," she explained. "Because I chugged vodka before I went to the interview. Because I had to kill it. Because I had to get on the show."
There were about twenty people at the final audition, but only eight made the cut: Angelina Pivarnick, Jennifer Farley, Michael Sorrentino, Nicole Polizzi, Paul DelVecchio, Ronald Ortiz-Magro, Samantha Giancola, and Vincenzo Guadagnino. The cast went straight from the hotel to the shore house to begin taping the first season.
Snooki drove drunk to The Shore House
Snooki was drunk from chugging vodka, but she needed to drive to the new house. She didn't tell the producers that she was intoxicated and instead endangered herself and others by driving under the influence. Her car stalled three times on the way and she ended up missing the house.
Once she walked in, though, she was ready to take on America. "Party's here!" Snooki said, as she entered the now-iconic house. She later said she was actually shaking because she was so excited to be on the show — which is also why she immediately "downed six shots."
It took a while for the cast to warm up to Snooki
Jennie "Jwoww" Farley was the first cast member Snooki took to because "she has big boobs and she looked so trashy." The two are as tight as ever and are filming a new web series about their lives as mothers, available on YouTube and a few other platforms.
However, the rest of cast took a while to warm up to Snooki. "Once I got punched in the face, everything changed and everyone fell in love with me because I almost passed out," she explained.
Snooki is super grateful she got cast on the show because she would have never met her husband, Jionna; had her children, Lorenzo Dominic LaValle, and Giovanna Marie LaValle (who looks just like a mini Snooki); or gotten all the opportunities that came with her transformation into the Snooki we know and love. She also wants to have more babies, as well as eventually go back to school and get her vet tech license.
To help promote the latest edition of the Jersey Shore phenomenon, Jersey Shore: Family Vacation, the cast sat down to review their original casting tapes. All the cast members' younger selves retained the same essence, but it's notable that they all used to have a much thicker Jersey accent. Here's Snooki's casting tape: