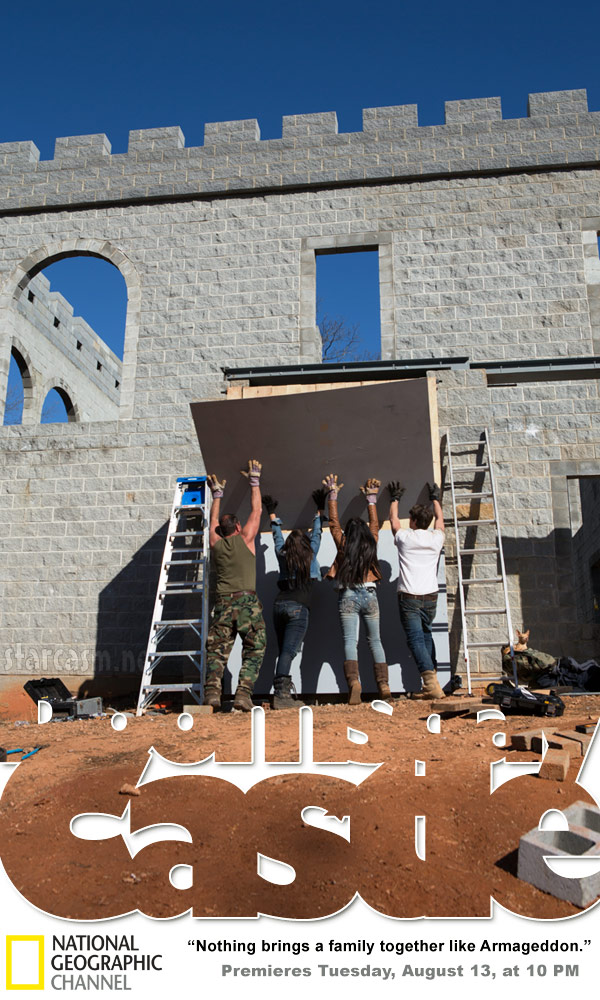 So, what's the best way to prepare for an electromagnetic pulse (EMP) that causes the world's power grid to completely fail, plunging the planet into medieval chaos? Why, building a medieval castle of course! That's exactly the thought process of super doomsday prepper Brent Sr. who is currently constructing a Game of Thrones worthy fortress (complete with catapult, drawbridge, etc) isolated deep in the Carolina mountains in an undisclosed location. But building a self-sufficient medieval uber bunker isn't without its difficulties, the biggest of which isn't marauders, laying stone, or finances — it's getting his three daughters and two sons on board and working together!
Here is the full press release announcing the series from National Geographic Channel that includes a synopsis of each of the first three episodes:
NOTHING BRINGS A FAMILY TOGETHER LIKE ARMAGEDDON
NATIONAL GEOGRAPHIC CHANNEL'S NEW SERIES DOOMSDAY CASTLE CAPTURES ONE FAMILY'S MISSION TO SURVIVE WHEN DOOMSDAY DRIVES THE WORLD INTO DARK CHAOS
From the Producers of the Hit Series Doomsday Preppers, Doomsday Castle Premieres Tuesday, August 13, at 10 PM ET/PT on the National Geographic Channel
"When the world is in chaos and consumes the world, our family will survive."
(WASHINGTON, DC – July 17, 2013) Castles have been hailed throughout history as the ultimate homes for kings and noblemen, shielding them from invasion by neighboring enemies. But for American prepper Brent Sr., this relic of medieval times represents survival if his greatest fear comes true — an electromagnetic pulse (EMP), where the power grid completely fails, plunging the country (and eventually the world) into chaos. He's hoping his castle, the ultimate bunker, will bring his family together and protect them if disaster strikes. But first he has to bring his family together to complete the castle … if they don't destroy each other first!
In National Geographic Channel's (NGC's) new summer series Doomsday Castle — marking the first true spin-off series in network history following the incredible popularity of Doomsday Preppers — Brent Sr. is summoning his children to finish the construction of his enormous, only half-completed castle isolated deep in the Carolina mountains in an undisclosed location, and to test their survival skills to find out if they each have what it takes to survive the coming apocalypse. Doomsday Castle premieres Tuesday, August 13, at 10 p.m. ET/PT. (For more information, visit www.natgeotv.com/doomsdaycastle and follow us on Twitter @NGC_PR.)
Since the premiere of NGC's hit series Doomsday Preppers two years ago, it seems prepping has taken the country by storm. And recent events such as the Oklahoma tornadoes and Hurricane Sandy offer further reminders that disaster preparedness is not such a crazy idea after all! Whether preparing for natural or manmade disasters, people across the country are taking precautions. But few take it to the extreme of Brent Sr. and his clan. Now, with cameras documenting every step of the process, Brent Sr. and his family struggle to survive not only doomsday, but also each other.
"When the world is in chaos and consumes the world, our family will survive," Brent Sr. explains to his kids. "Generations of [our] family will have a safe haven for retreat."
The apocalypse might shy in comparison to this clash of characters as they try to live and work together to fulfill their father's dream of completing the castle. Meet the family who hope to survive when the lights go out:
Brent Sr. — This former infantryman is turning his attention toward prepping — and protecting his family — by expending all of his energy on building an EMP-proof medieval castle in an undisclosed location deep in the Carolina woods. Brent Sr. wants to impart his knowledge to his children and help them develop their own survival skillsets to carry on his legacy — even after the end of days.
Ashley — The 24-year-old girly girl of the clan loves fashion and makeup, and dreams of becoming a model, actress or singer-songwriter. This former bartender seems an unlikely choice for a prepper, but she's relentlessly ambitious, adaptable and willing to get dirty.
Lindsey — Twenty-two-year-old Lindsey dreams of becoming a success in business, like her father. Lindsey, a self-proclaimed prepper, knows the basics of wilderness survival — including fishing and identifying edible and medicinal plants. Though she and sister Ashley are close in age, the two have never gotten along and are relentlessly competitive.
Dawn Marie — If the family had a designated warrior, it would be the outdoorsy Dawn Marie. The 20-year-old is tough — both physically and mentally ­— and feels most at home when she's out in the wilderness. Dawn Marie has a similar constitution to Brent Sr. and believes that the end of times is near, and will fight for survival by any means necessary.
Michael — Michael is the twin brother of Dawn Marie and the only child to have contributed regularly to building the castle. Michael is hardworking, loyal and close to Brent Sr. Like Dawn Marie, he is comfortable in the outdoors, is capable at orienteering and is skillful at hunting with the bow and arrow. Over the years, he has tried to differentiate himself from his siblings by learning construction skills to help Brent Sr.
Brent II — This gruff 42-year-old, the oldest of Brent Sr.'s children, is estranged from the entire family. His confrontational nature has created conflict between him and his younger siblings over the years. Brent is an entrepreneur who has problems working with others. He views the challenge of preparing for an EMP disaster and prepping the castle as a chance to prove his worth as firstborn son.
Premiere episodes of Doomsday Castle include:
Doomsday Castle: Before the Flood
Premieres Tuesday, August 13, at 10 p.m. ET/PT
Brent Sr., a retired infantry officer, recruits his children to help him finish building his doomsday castle, a completely self-sufficient fortress of refuge for the end of days. His children are shocked at the conditions of the bunker, and Brent II even calls it a "hoarder's paradise." The first tasks are building a drawbridge for the front door and cleaning out the bunker, where the family will live during construction. But before they begin, Brent Sr. unleashes a surprise attack by "marauders" intent on storming the castle. All of the kids are forced to surrender, proving to Brent Sr. and themselves how unprepared they are in the face of a security threat. The family spends the first night together in the bunker, and Brent Sr. serves up meals-ready-to-eat (MREs), much to everyone's dismay. Once the drawbridge is completed, Brent II stages his own surprise attack and tests the strength of the drawbridge with homemade battering rams that he designed himself — will the drawbridge hold up or will it splinter and provide no defense for the family?
Doomsday Castle: A Stone from the Sling
Premieres Tuesday, August 20, at 10 p.m. ET/PT
With only MREs to eat, Brent Sr. challenges the kids to start looking for other food alternatives. Heading to a local chicken farm, Lindsey and Ashley attempt to catch their own chickens — a great renewable resource providing eggs almost daily. But tempers flare as they start working on building a chicken coop to house the newest members of the family. Meanwhile, Brent Sr. and Dawn Marie build a catapult to be able to defend the castle from intruders. Michael and Brent II decide hunting is the best option for finding food. Michael, who is already a prepper and avid hunter, teaches Brent how to use the crossbow. The guys get ready for the big hunt and decide to go after wild boar, which live in the woods surrounding the castle. The entire family tests the catapult and then feasts on their new food options.
Doomsday Castle: Water from a Stone
Premieres Tuesday, August 27, at 10 p.m. ET/PT
Brent Sr. then sets up his children's next two key missions: learning military skills to fend off intruders with training by Military Mike, a retired Army Ranger; and creating a sustainable water supply by building a solar-powered water pump. Lindsey and Michael are first up for training with Military Mike while the rest of the family look for water to start their pump system. However, tensions intensify when communication breaks down and the family can't work together. Their military training is tested and things come to a head when a mock invasion pushes the family to their limits. In the end, the question of whether this family will survive each other, let alone the apocalypse, continues to linger.
Doomsday Castle is produced by Sharp Entertainment for National Geographic Channel (NGC). For Sharp Entertainment, executive producers are Matt Sharp and Alan Madison. For NGC, executive producer is Kathleen Cromley; vice president, global development and production is Charlie Parsons; senior vice president, production and development is Noel Siegel; and president is Howard T. Owens.