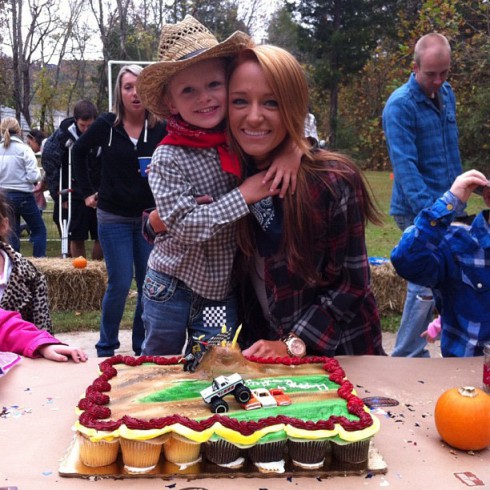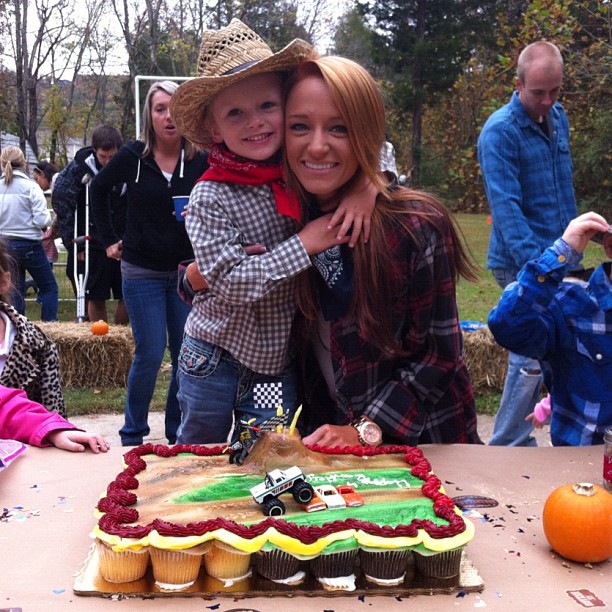 The late October party of the year used to be Heidi Klum and Seal's annual Halloween costume party, but now that the Hollywood super couple have broken up, it means we have a new top dog! That's right, the title of Awesomest Fall Bash now belongs to the annual festival otherwise known as Bentley Edwards' birthday party!
Former Teen Mom star Maci Bookout's son Bentley had his fourth birthday party this weekend (Yes, I know – it's unbelievable little Bentley is four years old!) and was kind enough to share some photos from the festivities, including the picture above of Maci and Bentley posing together with his monster truck themed cupcake birthday cake. As you may have guessed, the party was cowboy themed and featured Bentley dressed up in a straw cowboy hat, red handkerchief around his neck, checkered shirt, jeans, and boots. The above photo was accompanied by Maci's tweet, "my little cowboy turned four today!! such an awesome day! #blessed #happybirthdaybentley"
Maci then shared this next montage in which you can see Bentley's head-to-toe cowboy look as well as some of the birthday party accessories, which included a pony and a goat!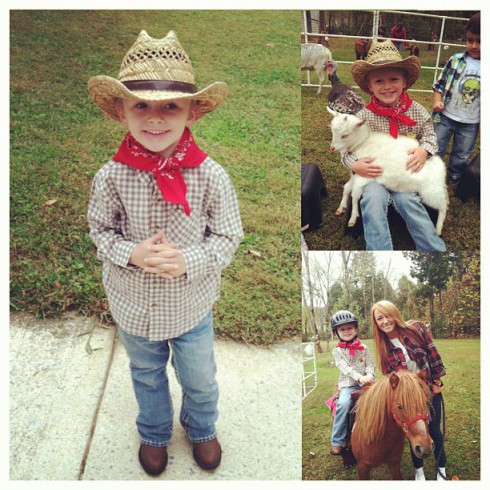 "he is my perfect world! #happybirthdaybentley" wote Maci.
Maci wasn't the only one sharing photos from the hoedown throwdown though! Also in attendance was Maci's maybe ex Kyle Regal, who posted this stylized photo of him and Bentley and one of Bentley's pals with their six-shooters raised: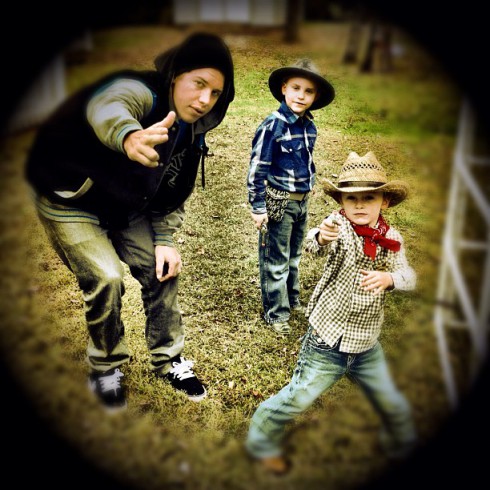 Kyle captioned the image with, "Bentley his friend and I playing cops in robbers!!! obviously I'm the bad guy #happybirthdaybentley #friends"
Maci's bestie Katie Roden was also their and she gave us another view of bentley's sweet cake and Bentley's even sweeter face along with cowboy bestie Buzz Lightyear!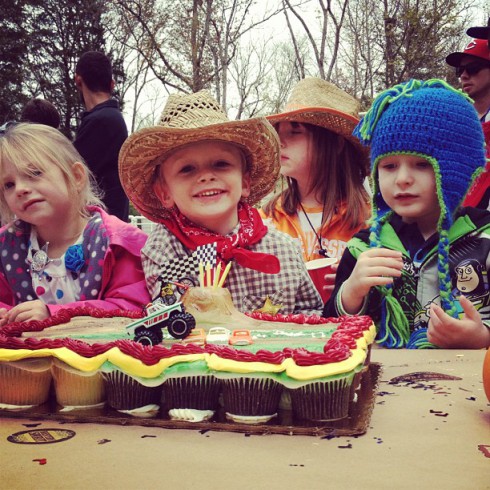 Happy Birthday to Bentley Edwards! We've been pretty unabashed in our admiration for this little superstar, and we only hope the Maci Bookout spin-off show rumors are true so we will get to see more from his birthday party on the small screen soon! Ah heck, let's hope the rumors of BENTLEY'S spin-off show are true!!!
Until then, enjoy some more photos of Bentleypalooza!
UPDATE – Maci tweeted her appreciation to all the people who came to Bentley's birthday party and to everyone who wished Bentley a Happy Birthday today:
Bentley's party was awesome! Thanks to everybody who came, he is a blessed little boy with tons of people that love him!!!