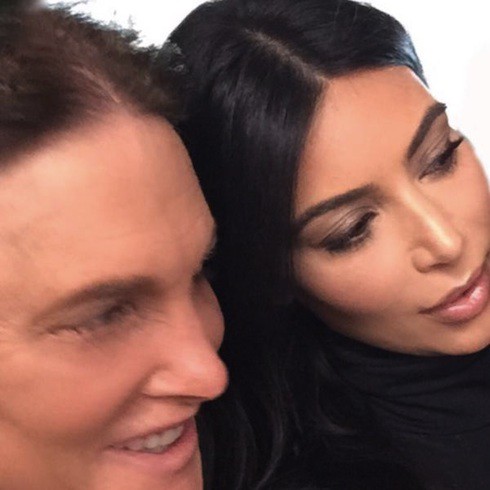 Bruce Jenner officially acknowledged his transition from man to woman in an interview with Diane Sawyer this weekend. The interview had an audience of 17 million people, and, immediately afterward, celebrities and people from all walks of life took to social media to express their support for the Olympian. Oprah and Maria Schriver were among the first to comment; later, Elton John, Patricia Arquette, and Jeffrey Tambor–whose role as a man transitioning to a woman on Amazon's Transparent has won widespread critical acclaim–all shared their positive thoughts.
Perhaps no congratulatory tweet was more hoped-for and appreciated, though, than Kim Kardashian's. Jenner's stepdaughter visited him shortly after the East Coast feed of the Sawyer interview was broadcast, and stayed for about 90 minutes. (Jenner planned to watch the West Coast feed with his children from his marriage to Kris.) After leaving, Kim shared the above photograph of the two together, as well as the following messages:
Love is the courage to live the truest, best version of yourself. Bruce is love. I love you Bruce. #ProudDaughter pic.twitter.com/7ZJ6FuMHfU

— Kim Kardashian West (@KimKardashian) April 25, 2015
Your honesty has opened the doors for others to be courageous and live an authentic life! #respect#hero#familypic.twitter.com/SNhN8pgrh5

— Kim Kardashian West (@KimKardashian) April 25, 2015
17 million viewers represented the largest audience for 20/20 since a March 17, 2000 interview with John and Patsy Ramsey. Were you among those who tuned in? Do you echo Kim's sentiments of love and compassion? Are you excited for the long-rumored Bruce Jenner transition reality show?
(Photo credits: KK on Twitter)