Former Teen Mom 2 star Jenelle Evans is insisting that her JE Cosmetics launch is still going to happen, despite the fact that the salon initially set to host the event backed out due to public backlash. "Our salon was unaware of what her and her husband have done or have been connected to, and in no way, would we support such brutality," Flirt Beauty Boutique said in a statement on Saturday — just a little over three weeks before the scheduled August 9 launch event.
Jenelle opted to "stay on brand" by being angry, smug, and dismissive with her own statement explaining what really happened:
NOT CANCELLED!!! I know there are a lot of rumors circulating about the @jecosmeticsinc launch. The launch to the PUBLIC will be 09.19.19, preorders will begin before that and soon will be announced. The launch party I've decided to do is a PRIVATE event. Do not believe the rumors others are posting onto their pages or into the media. No matter what I decide to do or no matter what happens… @jecosmeticsinc will launch to everyone on 09.19.19 and NOTHING will stop us! ??? … on a side note how can someone "cancel" my event when I'm the owner? ???‍♀️ #Rumors
As numerous commenters pointed out, it seems very easy to understand how a venue hosting someone's event can cancel it. If Madison Square Garden decides to cancel an R. Kelly concert, then that concert is canceled. Sure, it can move, but the R. Kelly concert at Madison Square Gardens remains cancelled. Right?
Jenelle's statement was accompanied by a text graphic that further explained that the cancellation change of venue was due to the original location of the launch party being "leaked:"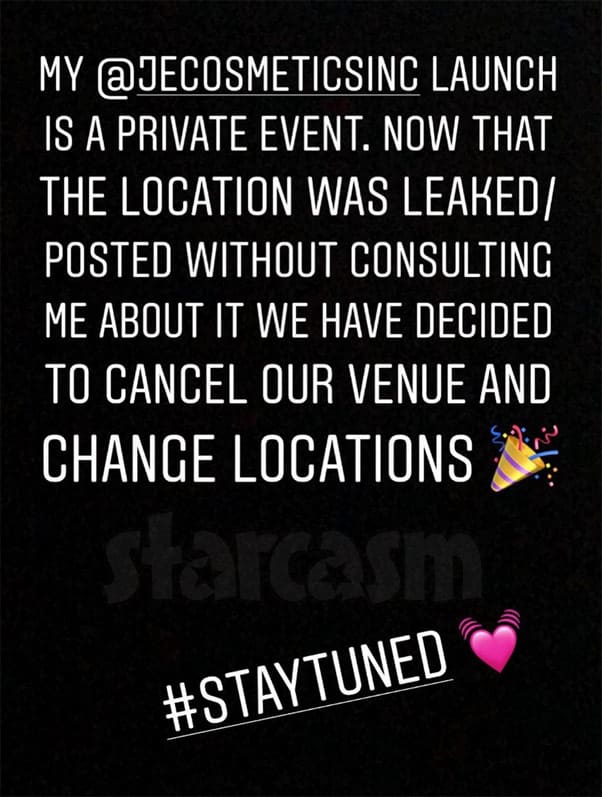 What's curious is that the event was "leaked" by Jenelle's manager Johnny Donovan. Here is a screen cap of his Instagram story post announcing the event with date and location:
This may seem a bit confusing, but Jenelle explains it all in the comments of her Instagram post:
COMMENT: But the location was leaked by you. ??
JENELLE: No it was posted by the venue and by my manager's intern ??‍♀️
COMMENT: So it wasn't "leaked". It was purposely posted.
JENELLE: Like I stated above in the screenshot … it was NOT me who posted it to begin with… WITHOUT my permission. I don't see why the company would post a PRIVATE event to their page and don't understand why I would tell all of you when I KNOW you guys will try to ruin it?! ?
COMMENT: Your PR dude posted it to his Instagram ?
JENELLE: Yeah… not me. This is why we are switching locations ? like I said 10 times
COMMENT: The venue said they didn't do their research about who you are. That's what's been posted at least.
JENELLE: No the location and invite was posted to their page and I decided to change locations then they decided to use that "excuse" … I have other locations I've been scoping out for weeks. Want to make sure it's perfect! ????‍♀️
COMMENT: Even if the actual products are cruelty free, buying from these people would still be supporting animal cruelty
JENELLE: How could u even say that about someone when that I was never charged with anything like that in my life?!
Meanwhile, Jenelle is apparently going after one hatter in particular. Jenelle posted a photo of a man and a woman on Facebook and Instagram along with their basic personal information before asking her followers to dig up more. Here is Jenelle's post with some of the specific information removed:
Meet [first and last name] from [city, state]. Her husband is [name] in the picture above. She is out to "SMEAR" my name is every and anyway possible. She's making up lies and false accusations about me. She does it mostly on Reddit. Thanks for the LOYAL FANS who sent over this information to me. IF ANYONE HAS ANY INFORMATION ON [name], SOCIAL MEDIA PAGES OR ANYTHING PLEASE SEND ME A DM! Thanks! Let's put a stop to all the BS! #TeamJenelle ?✨ I understand all of you have your opinions about me… but when you're PURPOSELY trying to prevent me from WORKING… that's a big problem with me. Need all the help I can get everyone. Thanks!
NYC salon cancels Jenelle Eason's JE Cosmetics launch party after learning more about Jenelle and David. "Our salon was unaware of what her and her husband have done or have been connected to, and in no way, would we support such brutality." #TeenMom2 https://t.co/HJGX8LPmy2

— Starcasm (@starcasm) August 18, 2019
On a certain level I have to admire Jenelle's tenacity in regards to this cosmetics launch. Of course, the way she is handling everything is ill-advised and only makes things worse. She's not only riling up the hatters, but also alienating potential non-hatter customers by appearing to be unprofessional, vindictive, and unjustifiably condescending with her version of the "truth."
Jenelle not wanting to back down and insisting to move forward with the makeup launch is completely understandable. What baffles me is the fact that the company making JE Cosmetics is willing to move forward with the launch! I assume this is a cosmetics company that also manufactures makeup for other brands, and you know the hatters will be posting a complete list of those. And I don't even want to think about the fate of any salon or retail store that chooses to carry the product on their shelves.
If I were a betting blogger, I would put my money on the launch event happening. It's the ten days between the launch event and the actual product launch that has the most potential to derail everything. As the "leaked" invitation states, the party will be attended by makeup industry influencers — or at least they will be invited. What do the JE Cosmetics people expect the result of that to be? What YouTuber or major makeup Instagrammer is going to risk their own brand by supporting a product launch associated with Jenelle and David?
Even if you are playing devil's advocate and agree with Jenelle that the negativity surrounding the Easons is largely unjustified, that doesn't change the fact that the negativity exists. It also doesn't change the fact that the negativity is fueled by a very diligent, passionate, and networked group of people. And let's not forget what the perceived negativity involves — things like animal cruelty, domestic violence, racism, and homophobia. Those are terrible for just about any business, but particularly so in the cosmetics industry.
I believe Jenelle (or someone working for Jenelle) could have orchestrated this launch in a way that mitigated at least some of the negativity. That has clearly not been the case. This is pretty much guaranteed to be an absolute ? show at this point, and I confess that I wish MTV was filming it all.
Asa Hawks is a writer and editor for Starcasm. You can contact Asa via Twitter, Facebook, or email at starcasmtips(at)yahoo.com