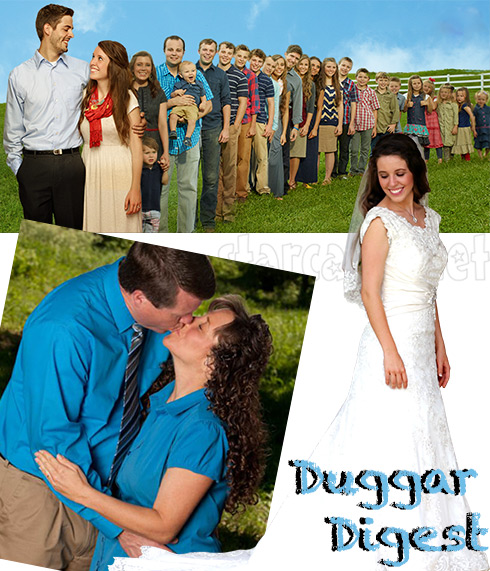 Tonight is the long-anticipated Jill Duggar and Derick Dillard wedding special on 19 Kids and Counting. The two-hour bonanza kicks off at 9/8c as the pair gets last-minute help from "hundreds of volunteers" who save the day when a freezer malfunction almost ruins Jill's plan to serve root beer floats.
Later, Jill and Derick have an emotional "first glance" moment before the ceremony — you can tell they are so ready to kiss!
For more details on Jill's big day, check out our posts on her theme, how her wedding dress was altered to meet her modesty standards, their wedding pictures, reception details and the newlyweds' honeymoon.
What is a covenant marriage?
Derick's mom, Cathy Dillard-Byrum, revealed an interesting detail about Jill and Derick's union this week when she told People the pair opted for a covenant marriage.
"It was so special," Cathy said. "But it wouldn't matter if they chose that type of marriage certificate or not, those two would still have a covenant marriage."
So, what exactly does that mean? Covenant marriages hold couples to a higher level of commitment by requiring they receive counseling before the wedding and that the spouses seek additional counseling before a divorce is granted. There are also limitations on what grounds for divorce are considered valid: A married couple may divorce if one spouse commits adultery, a serious crime or is abusive. On top of it all, the couple must live separately without reconciling for two years. (That is extended to 30 months if minor children are involved, but may be decreased to 12 months if the grounds for divorce are abuse.) Covenant marriages are only offered in Arkansas, Arizona and Louisiana.
The Duggars go on the campaign trail
Sure, it's Jessa Duggar's wedding week… But, it's also the final days before the midterm election. The soon-to-be Mrs. Seewald and her beau are on the FRC Action's Faith, Family Freedom Bus Tour, which is making 20 stops throughout Arkansas, Kansas, Louisiana, Oklahoma, Georgia, Tennessee and North Carolina.
Before their stop in Louisiana (pictured above), the Duggars were in Kansas, where they endorsed Gov. Sam Brownback and Sen. Pat Roberts (pictured below), who "stand for traditional marriage, protecting the unborn and religious liberty."
Ben and Jessa also used the extra attention being paid to them as their wedding approaches as an opportunity to not-so-subtly promote Louisiana pro-life congressional candidate Zach Dasher, who is also the nephew of Phil and Si Robertson. (The Duggars are friendly with Duck Dynasty stars!)
The FRC's Bus Tour continues until Oct. 30, but it looks like most of the Duggars headed back to Arkansas late last week to prep for…
Jessa Duggar's wedding week!
By this time next week, the third-oldest Duggar daughter will officially be Jessa Seewald. The pair is set to wed at the First Baptist Church in Bentonville, Ark. in front of an estimated 800 guests — which makes it an intimate affair compared to Jill's 1,000+ guest event.
Their engagement special will actual air on TLC one week from tonight.
Watch the two-hour Jill Duggar wedding special on TLC tonight at 9/8c.