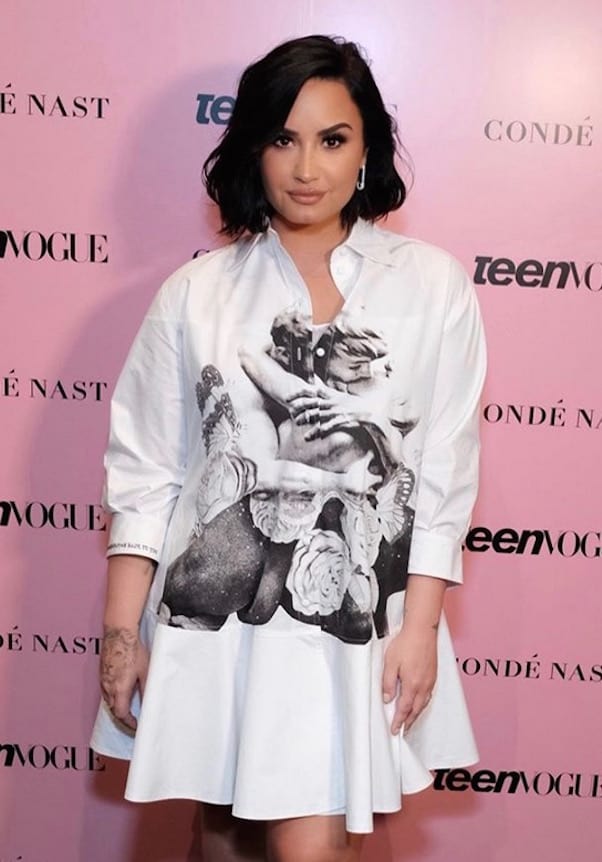 THE BLAST – The first Demi Lovato interview since her near-fatal overdose saw the 27-year-old feeling optimistic and calm about what the future holds. Lovato, who took a year off following the overdose, told an audience at the Teen Vogue Summit that she sees herself as "a fighter" and added she doesn't regret anything in her life because "I love the person that I am today"
CELEBITCHY – Donald Trump got booed at a major sporting event again: last week it was Game 5 of the World Series; this week it was a UFC fight at Madison Square Garden. I know it was New York City and all, but I feel like a UFC fight is maybe closer to Trump's base?
VOX – And speaking of the president: It turns out that if you have a spare $100 and a hardware store nearby, you, too, can buy a reciprocating saw with enough awesome power to cut through the border wall with Mexico, whether for political purposes or simply to smuggle things across
REALITY TEA – RHOC star Meghan Edmonds says her marriage to Jim started to fall apart following his texting scandal, after which some of his family and friends "blamed her for Jim's indiscretions." Meghan also spilled some of Jim's tea, adding that he was "drinking and partying" with some of the couple's babysitters (including the "22-year-old Mormon nanny" with whom he's rumored to have had an affair)
LAINEY GOSSIP – Is Heidi Klum still the costume queen of Halloween, or has social media gotten so many other celebrities to step up that her elaborate costumes no longer stand out?
THE ASHLEY'S REALITY ROUNDUP – "David Eason Speaks Out After Jenelle Evans Announces She's Divorcing Him; Calls Her 'Stupid' After It's Reported She Wants Full Custody of Their Daughter Ensley"
THE BLEMISH – Houston Texans quarterback DeShaun Watson got kicked in the eye in the middle of a game last week, and it was swollen shut all week, but he played this week and very well at that and after the game he credited his miracle semi-heal to the re-released Popeye's spicy chicken sandwich
GO FUG YOURSELF – "Emilia Clarke's LAST CHRISTMAS Press Tour HAS Been Pretty Good"
DLISTED – This comment already went viral on Twitter, but it's worth repeating here: there is absolutely no way this is Kanye in the dinosaur costume, right?
JEZEBEL – "Kanye West's Sunday Service performances have a new wrinkle. Now the roving gospel performance installation is associated with a truly terrible breakfast offering after his performance at Bethany Church in Baton Rouge, Louisiana on Friday."
(Photo credit: Demi Lovato interview via Instagram)
John Sharp is Starcasm's chief editorial correspondent-at-large. Tips: E-mail john@starcasm.net or Twitter @john_starcasm.