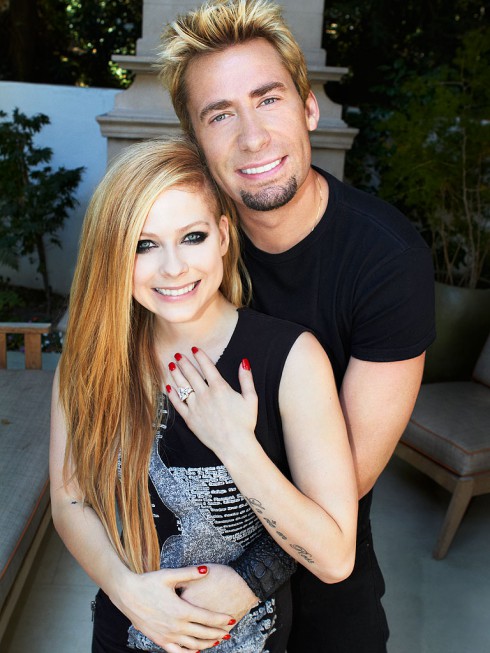 Chad Kroeger and Avril Lavigne announced their engagement last month and it came as a shock to everyone. No one even knew the two had been dating. Plus, Avril had just broken up with her longtime boyfriend Brody Jenner earlier this year. Now, Chad is speaking out about his lady love and their engagement.
Chad and Avril met earlier this year while working together on Avril's new album. This summer, the two turned their friendship into a romance and officially began dating on July 1 (aka Canada Day) (both Chad and Avril hail from Canada so this anniversary will be easy for them both to remember). "We think it's very cool that our anniversary will always be on Canada Day," Chad  tells PEOPLE. "We can't wait to start our life together."
While many have questioned their whirlwind romance, Chad isn't worried about what everyone else thinks. "I try not to take too much interest in the world's opinion of our relationship. I just know the both of us are very happy."
As for how their marriage will correlate with their hectic touring schedules, Chad explains, "She'll come over and spend some time [with me] when she's got time. They're going to throw a lot of stuff on her plate with the new record." Hopefully, Chad will take some time out to introduce Avril to his mother who has yet to meet her — except during a phone conversation.
Of that conversation, Chad tells Hello! Canada, "You never know what your parents are going to say when you tell them you're getting married — especially when it's with someone they haven't met yet! My mom is a huge fan of Avril's, so putting her on the speaker phone and telling her the news was hilarious and equally embarrassing."
This will be Avril's second marriage. She wed Sum 41 rocker Deryck Whibley in 2006 but divorced just three years later. Of her new romance, Avril says, "Everyone is super stoked for us. The reaction from our friends and family has been awesome. I have the whole thing planned out in my head. It will be a huge celebration!"
Photo: Rob Dipple