It's becoming quite obvious that Apollo Nida's eight-year prison sentence shouldn't prevent Bravo from filming The Real Ex-Husbands of Atlanta spin off! The former Mr. Phaedra Parks demonstrated to everyone that he has been working out his shade muscles behind bars as he clapped back hard against the ex-husband of his fianceé Sherien Almufti on Instagram by calling him a deadbeat dad and comparing him unfavorably to a bucket of Kentucky Fried Chicken.
In case you missed it, it was revealed earlier this week that Apollo Nida is engaged to Pennsylvania/New Jersey real estate agent Sherien Almufti, whom he met prior to beginning his current eight-year prison sentence for fraud, etc. The announcement drew out Sherien's ex husband Derrick Copes, who was furious that Sherien was taking their eight-year-old daughter to visit Apollo in prison and taking her out of school to film for The Real Housewives of Atlanta. Derrick revealed that he has stopped paying his child support until Sherien stops the mother/daughter prison outings. (READ ALL ABOUT THAT HERE.)
Prison bars keep prisoners in, but it seems they can't keep the drama out because Apollo caught wind of Derrick's comments and Apollo (or someone with access to his account) took to Instagram with receipts and some finger-lickin' good snark!
The "receipts" came in the form of a literal receipt from he Pennsylvania Child Support program which shows that Derrick Copes pays $452.22 a month for child support and as of April of this year he owed $8,763.35. That's more than 19 months of unpaid child support! Here's the photo: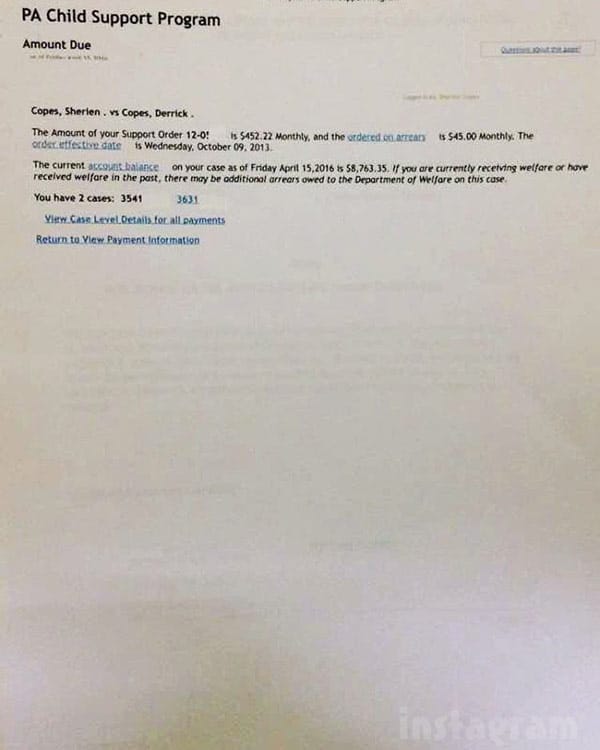 Adding insult to in(stagram)jury, Apollo wrote this snappy cap for the pic:
Do you know the difference between a bucket of KFC chicken & Derrick Copes?? KFC CAN FEED A FAMILY OF 4 while Derrick can't even pay current or back child support from 2013. #thenidateam #paperwork don't lie !! this is a high mountain this guy is attempting to climb on. Don't be a groupie be a man take care of your child oh sorry children ??? To be continued!!!! #THENIDATEAM!!
As Phaedra would say: "Mmmmmm hmmm."
Meanwhile, Sherien is staying strong, thanks in part to support from her gal pals, as evidenced by this text exchange:
Well, it looks like the clapback ball is squarely in Derrick Copes' court! And just in case he's reading this post, I though I might offer up this little chicken humor nugget: "You know what Apollo Nida and someone hitting the KFC drive through at noon have in common? They'll both be lucky to get out in 6-8." (Still not as good as Apollo's.)