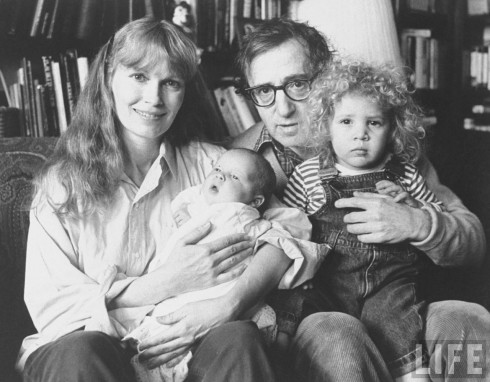 Mia Farrow and Dylan, one of the daughters she adopted with ex-boyfriend Woody Allen spoke to Vanity Fair in quite an explosive piece. The first minor spark that came from that interview was the revelation that Mia's only biological child with Woody, Ronan, may actually be her ex-husband Frank Sinatra's kid. But that was a minor, speculative detail. The meat of the story is the harrowing tale Dylan, who is now in her 20s, has about sexual molestation she says she suffered at the hands of her adoptive father.
20 years ago Mia Farrow taped her young daughter saying that Woody Allen touched her inappropriately, but the case failed to make it to trial to avoid 7-year-old Dylan having to testify in court. She now wishes she could go back in time and make herself follow through with testifying. "I'm scared of him, his image," she explained. "I have never been asked to testify. If I could talk to the 7-year-old Dylan, I would tell her to be brave, to testify."
"There's a lot I don't remember, but what happened in the attic I remember. I remember what I was wearing and what I wasn't wearing," Dylan recalls. "The things making me uncomfortable were making me think I was a bad kid, because I didn't want to do what my elder told me to do… I was cracking. I had to say something. I was 7. I was doing it because I was scared. I wanted it to stop."
After the case was dropped, Woody Allen maintained his successful career, and the allegations were mostly forgotten by the public. The now 77-year-old acclaimed director's relationship with Mia Farrow disintegrated in 1992 when she discovered he had nude photographs of Soon-Yi Previn, her adopted daughter with ex André Previn, who was essentially Woody's stepdaughter. Soon-Yi was 19 and Allen was 56 when their relationship began. They married in 1997 and are still together with their two adopted children: Bechet Dumaine, 14 and Manzie Tio, 13.
Dylan says Woody tried to contact her twice when she was older. The second time he tried, he sent a large envelope full of photos of the two of them to her college during her senior year. The return name was "Lehman," which was an attempt to trick her into opening the package. "I should have recognized the handwriting—I didn't," Dylan remembers. She says the note inside read "I thought you'd want some pictures of us, and I want you to know that I still think of you as my daughter, and my daughters think of you as their sister. Soon-Yi misses you."
"How do your daughters think of me as their sister? How does that work?" Dylan wondered about the message.
Honestly I'm a big fan of Woody Allen's work, Annie Hall is one of my favorite films ever and I really enjoyed his latest movie Blue Jasmine, but after reading Dylan's comments I'm not sure I have the stomach to watch any of his movies ever again. No child should have to go through something like that.