The first official royal portrait of Kate Middleton was unveiled earlier today and the public reception was a bit less than enthusiastic. "Lifeless," "disappointing," "ordinary," "dull" and "old" were adjectives culled together by ABC News to describe the work, done by artist Paul Emsley.
In other words, it just needed a bit of sprucing up — and who better to spruce up a work of art than noted (i.e. notorious) fresco restoration novice Cecilia Giménez, whose work on a century-old "ecce homo" fresco of Jesus in Spain's Santuario de la Misericordia became a huge internet sensation last year?
In case you missed it, here's how that turned out: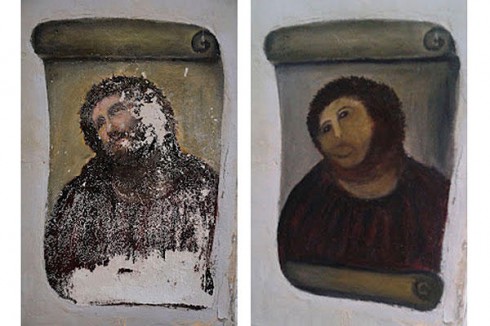 So, thanks to the wondrous magic of Photoshop, we were able to virtually allow Ms. Giménez to virtually apply her handiwork to the Kate Middleton royal portrait and the result was nothing short of… beautimous!
We've reached out to Kate for her reaction, but so far we've not heard back.