Amanda Seyfried stars in Lovelace out Friday August 9, a movie that chronicles the complicated story of one of the most famous porn stars ever: Linda Lovelace. Her 1972 movie Deep Throat somehow edged into mainstream distribution and was able to earn over $600 million, according to the documentary Inside Deep Throat, although an LA Times article debunks that number. Even if it didn't gross that much, it no doubt made a huge amount of money, and Linda's paycheck (which went to her husband and manager Chuck Traynor,) was reportedly only about $1,000. Although there was major backlash against the film at the time, it was also seen as sexual empowerment by some, and Linda's public persona seemed to back that up. A few years later, however, Linda revealed to the public some very painful and dark secrets about the movie.
Linda's birth name is Linda Susan Boreman, and according to her 1980 memoir Ordeal, she was anointed with the name Lovelace after Deep Throat had already been shot. Deep Throat director Gerard Damiano came up with it because he liked alliteration.
She was living with her parents in Florida recovering from giving a baby up for adoption and a car accident she had when her family used to live in New York when she met her future husband Chuck Traynor. She later needed a liver transplant because she had contracted Hepatitis C from a blood transfusion she received after the accident.
Traynor originally told her he was a photographer, and according to her, she was quickly coerced into what became an abusive and captive situation. She says it was his brand new Jaguar that really turned her head. In her book she alleges that after they started dating he forced her into prostitution through threat of death, forced her to marry him, and forced her into small-time porn. She tried to leave him a couple of times, but even when she went to her parents house to escape, they believed his side of the story and thought she was being dramatic.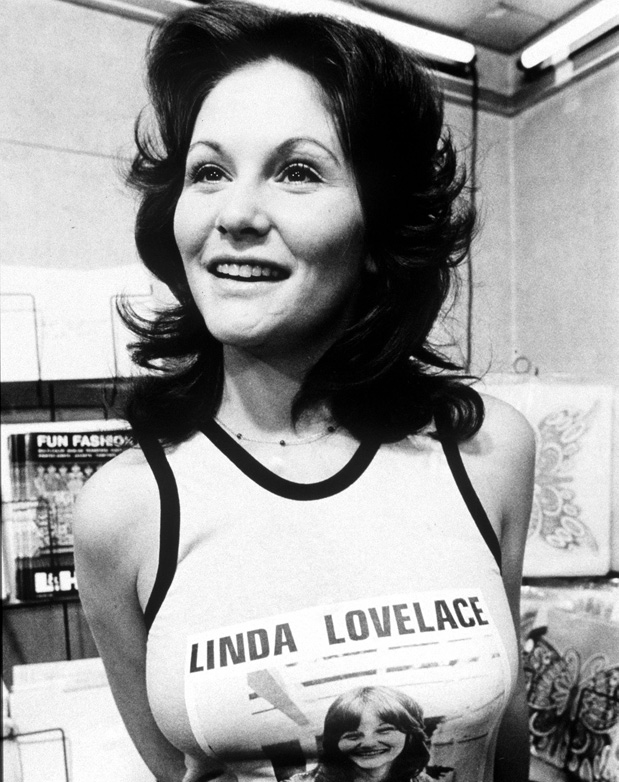 Linda claimed that you can see bruises on her body in Deep Throat from a beating she experienced on the set. Others close to the situation have tried to refute this allegation, but in the documentary Inside Deep Throat one of the crew members corroborated Linda's story, saying he could hear the beating through the hotel walls. Before Linda came out with her second memoir Ordeal, everyone thought she had enjoyed making Deep Throat, especially after a book came out supposedly written by her called Inside Linda Lovelace. In the book Linda is portrayed as a sex addict who really enjoyed making Deep Throat, but in Ordeal Linda calls the book a "pack of lies," and claims Chuck Traynor wrote it.
She finally made her escape from Traynor after she played the Hollywood game with him for a while; making a few other sex-themed movies including a Deep Throat sequel, posing in spreads for Playboy, Bachelor, and Esquire, and hobnobbing and sexually pleasing Hugh Hefner and Sammy Davis Jr. She was rehearsing to star in a musical revue when she decided to bolt. During a rare time when Chuck had stormed away from a rehearsal, she convinced a dance coach to drop her off at the Beverly Hills Hotel where she hid for a while until she was able to make further plans.
After Linda left Chuck, she married Larry Marchiano, a cable installer, in 1974, and they eventually two children: Dominic and Lindsay. They divorced in 1996 and she later complained that he was violent, abusive, and drank too much.
Whether or not Linda's version of the story is 100% credible, Chuck Traynor later admitted he had control over Linda, and that she was demure about sex when they first met. "When I first dated [Linda] she was so shy, it shocked her to be seen nude by a man… I created Linda Lovelace," he told Gloria Steinem.
Although Linda became a major player in the feminist and Christian anti-pornography movements, she later said she felt used by them as well. "They've written so many books, and they mention my name and all that, but financially they've never helped me out. When I showed up with them for speaking engagements, I'd always get five hundred dollars or so. But I know they made a few bucks off me, just like everybody else."
On April 19, 2002 Linda died at the age of 53 after sustaining massive injuries in another car accident. In 1997 she said of her life "I'm not ashamed of my past or sad about it and what people might think of me, well, that's not real. I look in the mirror and I know that I've survived."
Amanda Seyfried and Peter Sarsgaard as Linda Lovelace and Chuck Traynor in Lovelace: