Fans of MTV's Teen Mom and 16 & Pregnant shows are in a bit of rare limbo as the original Teen Mom has concluded, Teen Mom 2 wrapped up its 4th (and possibly last) season last week, the network has remained silent about 16 & Pregnant Season 5 (although they have reportedly filmed for it), and although Teen Mom 3 has been officially announced and finished filming months ago, there has been no word on a premiere date — although it has been reported it will air some time in August.
However, Katie Yeager, Mackenzie Douthit, Briana Dejesus, and Alexandria (Alex) Sekella were all in New York City this weekend to record aftershow interviews with Teen Mom's Maci Bookout — months after the gals were there to record the Reunion Special. So, in an attempt to fill the void created by no new episodes of young mother reality shows currently airing on MTV, we've cobbled together all the photos and videos we could find from the Teen Mom 3 girls' time together in The Big Apple!
The group photo above was shared by Briana on Tuesday (which was her birthday – more on that shortly) along with the caption, "After shows, #TM3 #birthdaygirl" Briana also shared this next group shot of all her Teen Mom 3 cast mates and Maci Bookout: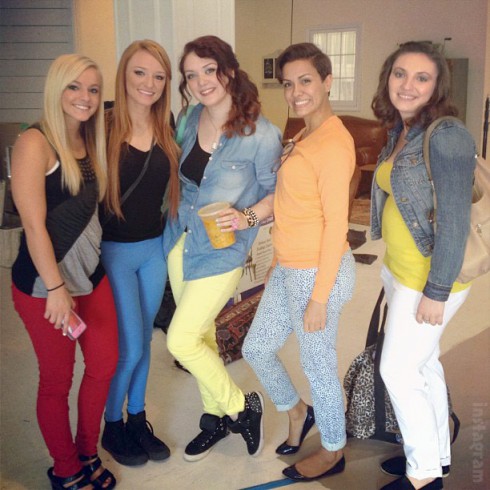 And just in case the photos aren't enough to relay what it was like, here's a video clip of the gurlz "backstage" recorded by Briana:
It was hoped that after MTV aired Teen Mom 2 Season 4 right on the heels of Season 3 that the network would abandon its practice of leaving such a huge time gap between when they record the shows and when they air, but that appears to not be the case as we won't get to see the moms of Teen Mom 3 and their children until a year after all the events have taken place. As Katie Yeager so aptly wrote on Twitter, "I'm not even going to be a teen mom anymore by the time this show airs."
But enough bitchin' and moanin'! Let's all enjoy some more photos and videos of what we won't be seeing on MTV until six months from now, shall we?
If this were some sort of Top 10 List or whatever there's no doubt which photo would have come out on top! Check out this photo of Katie, Briana, Mackenzie and Alex paying tribute to Teen Mom star Farrah Abraham's infamous cry face!
I'm just glad they didn't try to imitate some of Farrah's other famous activities that featured similar facial expressions!
And imitating of Farrah wasn't the only fun the Quatro Amigas had in front of the camera! Check out these pictures that I think do a great job showing off how fun-spirited all of them are:
The picture of Mackenzie Douthit and The Black Naked Cowboy was posted by Katie along with the caption, "@mackenziedouthit loves her cowboys<3" (An obvious joke about the fact that Mackenzie is engaged to a real deal cowboy and former rodeo star.)
And just in case you don't like your fun without a little wisdom mixed in, here's a photo posted by Katie described as "Teen Mom Three rules to live by:"
As I mentioned above, not only were the girls celebrating being in New York City together, they were also celebrating Briana Dejesus' 19th birthday on May 21! Briana's special day was celebrated with her co-stars and a cake on Tuesday, and the moment was captured in a brief Vine video clip posted by Alex:
And here's a photo of Briana's birthday cake:
Speaking of video clips, here's another Vine video — this one was posted by Katie along with the description, "We are having a picnic:"
And here are all the rest of the photos and videos from this weekend:
I REALLY can't wait for the premiere!