It's been an amazing few years for 26-year-old Jenni Farley from East Greenbush, New York! After making her reality television debut on Jersey Shore in December of 2009 this former graphic design business owner has become a huge celebrity with her own spin-off series alongside fellow meatball Nicole "Snooki" Polizzi and has even managed to find her future husband in hunky guido Roger Mathews, who proposed to Jenni in September at the end of a skydiving expedition!
Now fans will get to follow the next chapter of JWoww's life as she leaves Seaside Heights and the rowdy Jersey Shore life behind and prepares for her life with Roger, including a big wedding and (by all indications) lots of children! JWoww talked about her upcoming wedding as well as Roger's surprise proposal in an interview with Cabio.com. (Sorry – I assumed the clip would embed, but apparently the embed code doesn't work for other sites, so I typed up the highlights.)
"I had no idea that Roger was going to propose on the day that he did," Jwoww starts out. "It was pure insanity because he's such an extremist that I knew skydiving was on his bucket list and that he wanted to do it, but I had no idea that he was going to propose after. And he had this huge sign with millions of flowers laid out on the field and I kind of landed right into the whole thing with him on one knee."
JWoww then begins to gush on her HUGE 7.5 carat pink diamond engagement ring designed by Layna Friedman, "which was, like, my big Hollywood diamond that I wanted!" she said. "It had the pink diamonds in it," she said.
"So the whole day was just intense for me," she continues. "It was sensory overload, like I have no idea how to even explain it."
It was also a bit of emotional overload as well apparently. "I wanted to kill [Roger] for taking me skydiving, but I land and he was on one knee — I was, like, oh! Switched emotions! And then for all the things that he had planned afterwards that you will get to see on Snooki & JWoww 2, are just nuts!"
Being this small girl from Jersey being, like, 'I want this huge Hollywood diamond' that I thought I would never get, and then he ends up meeting the jeweler and getting the Alayna Friedman diamond. I was, like, 'Holy sh!t! Like, my dream came true!' She then added, "after I almost died jumping out of a plane."
So are things different now that she and Roger are engaged? "Oddly enough, since Roger and I have lived with each other for about almost two years, it hasn't really changed our dynamic only because we lived with each other. The only difference is that we're planning a wedding, or trying to, and I have a HUGE engagement ring, which is pretty sweet."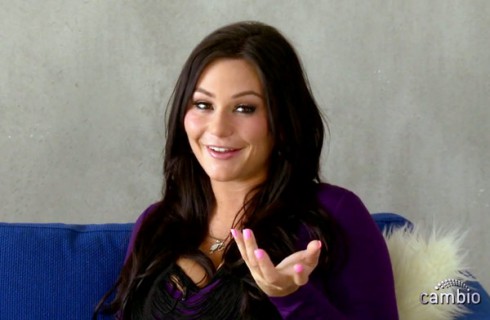 Can we expect planning for her special day to transform JWoww into the cliche bride-to-be monster? "I don't know if I'll be a bridezilla," she says, "because I haven't really started full-blown wedding planning. But I would prepare people to, you know, be aware and prepared that I might kill them in the process. I'd like to say I won't, but if you come between me and my dream wedding I might. As long as I don't kill Roger that's fine."
Exactly what kind of wedding will we see for JWoww? "I have two options. The first one is to take like 500 people and go to Vegas and have this rock star wedding. Literally I just want to shut down a hotel! Just be, like, all mine. That's a little bridezilla-ish.
And when can we expect this wedding bash to occur? "I want it in like six or seven months," JWoww says. "But I haven't done anything. I'm awful. I'm going to be like that person that's, like, 'Alright, so I want to get married in a week. I need everything now!'"
So what's the second option? "If a hotel won't have it my way, I may have to settle for Jersey."
And what about her wedding plans interfering with her bestie Snooki's wedding plans? "The big thing about me and Nicole is that we want such the opposite weddings that there's no way we could interfere with each other. She's like fall, Upstate New York, foliage. I'm like summer, fist pumping, Vegas, everyone's hal naked. So I don't think they're going to overlap or be comparable," JWoww finishes while laughing.
CLICK HERE for another JWoww interview with Cambio.com in which she dishes on the final season of Jersey Shore, Snooki, and having children.