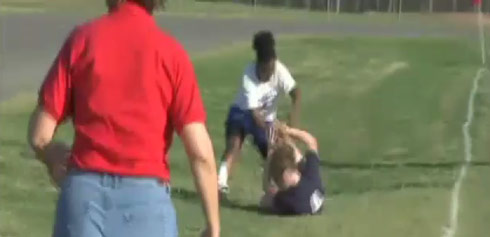 Down in South Carolina there was a good old-fashioned high school girl's soccer game going on when, seemingly out of nowhere, things got extremely violent. The schools, Chester High School and Lewisville High School, are rivals, but what transpired went beyond the pale for any rivalry game.
Lewisville High senior Annette McCullough was tripped by an as-yet-unnamed opponent from Chester. This set the 18-year-old off as she pulled hair and threw 11 punches before she was stopped.
McCullough was sent off with a red card, escorted away from the field, and later was arrested when authorities arrived at the scene. She has been charged with simple assault by Chester County authorities.
Here is the video, and I'll warn you that the footage is violent and contains some foul language:
The referee of the match did not mince words when he spoke about the appalling nature of the acts. Alan Parker said:
"Some incidental contact ended in one girl going down and she just got up and started pummeling. It's unfortunate, it really is. Contact is a part of soccer, but when you retaliate like that, obviously, there is no place in the game for that. Occasionally you have players that go at it, on the field together, but in this case it was just one girl pummeling the other girl. And she didn't stop which is even more egregious."
According to WBTV, the mother of the unnamed victim is insisting on having McCullough prosecuted to the fullest extent of the law.
Seeing that clip reminds me of a previous write-up we did on collegiate player Elizabeth Lambert who went viral when a number of violent acts on her part were caught on tape during a match with BYU. Soccer? I hardly know her!