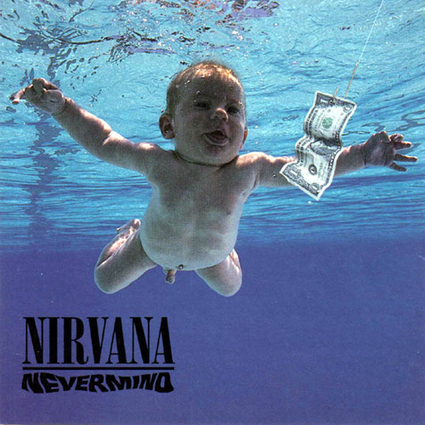 19-year-old Spencer Elden started life as the Nirvana baby, when he appeared naked in the water grasping for a dollar on the cover of the group's Nevermind album. His parents only received $200 for the now iconic photoshoot, but Elden has been benefiting from his Nirvana connection ever since. In 2007 he recreated his famous shoot (this time wearing swim trunks), and he revealed he sometimes gets a few hundred $ in appearance fees to show up at people's birthday parties and getting in the pool.
Around that time he had just been noticed as an artist in his own right by the infamous Shepard Fairey, the pop artist who created the Obama Hope poster, and was taken on as an apprentice. Since then Elden has learned printmaking and focused on fine-tuning his own art. He's inspired by his boss, as well as pop artists like Warhol and Basquiat, and his art has a comic-book feel. He silkscreens all his prints by hand on newsprint, and hopes to sell stickers, buttons, and posters through his WordPress blog Vampires One Day's.
He was once gunning for film roles and an appearance on Howard Stern, but now the 19-year-old just focuses on art.
Below is his recent interview with film editor Barry O'Donnell:
Doesn't that just make you want to check into a nursing home? The Nirvana baby is freakin' 19! Pass the peas and carrots puree.