San Diego Comic-Con may have surpassed the Oscars as the biggest event in North American entertainment as the industry gathers together over a single weekend to unveil pretty much anything and everything fans can expect to see in the coming year. But, the four-day event also remains a stage for fans to show off their cosplaying skills as armies of costumed characters flood the San Diego Convention Center creating a reality-warping, geektacularly fun atmosphere.
This year there was the usual array of scantily clad female super heroes (above) and their not-quite-as-sexy male counterparts, several Klingons, Disney princesses and pretty much every Star Wars character except Jar Jar Binks. But, my favorite 2014 San Diego Comic-Con costumes (so far) would have to be the unlikely mash-up of a couple surreal children's TV show superstars and The Walking Dead.
Let me present to you, Teletubby Zombies! Or would that be Telezombies?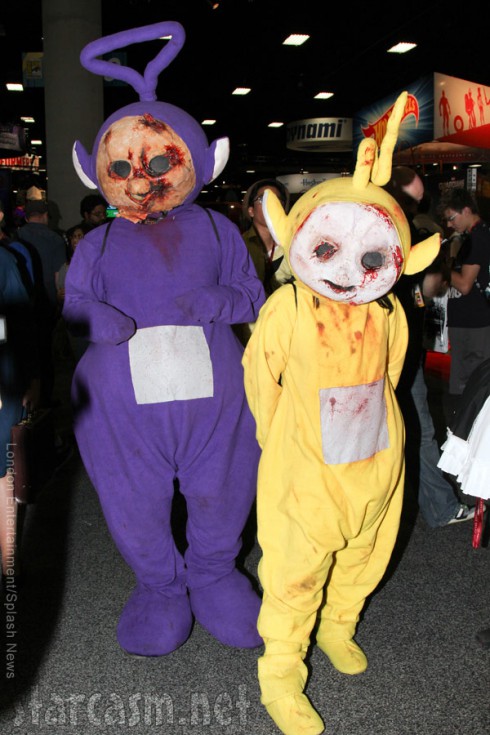 I did a little Googling before writing the article, and whoever these two cosplaying artists are, they may have gotten their inspiration from a video game mod of "Left 4 Dead 2:"
Whatever the inspiration, congratulations to the Teletubby Zombies for winning the 2014 Starcasm Best Comic-Com Costume award!
* It should be noted that Farrah Abraham is attending Comic-Con today and tomorrow and she tweeted that she was shopping for a costume. If there is anyone on the planet that could come up with something more bizarre and mind-warpingly twisted that Teletubby Zombies, it's Farrah Abraham. (Like a zombie-ized version of her vagina costume, for example.)