The man who cheated (seeminglyly hundreds of times) on America's sweetheart, Sandra Bullock, is coming back to television! Discovery Channel, which was the home of Monster Garage from 2002-2006, is welcoming their fabricating (wink wink) star back for the special "Jesse James: Outlaw Garage" on Monday, April 9 at 10pm ET/PT.
According to TV Guide, the special will serve as a pilot and will feature Jesse James at his new home in Texas working with The Austin Speed Shop on rebuilding a 1932 Ford Roadster in a matter of weeks.
Here's the description from Discovery Channel:
It's back to basics for Jesse James. With his life in a tailspin, Jesse said goodbye to the glitz and glamour of Hollywood moved back to Austin, Texas. He's had enough of the distractions and wants nothing more than to leave his problems behind and get back to his roots as one of the top fabricators in the world.
With the help of some of the world's top car customizers, Jesse partnered up with The Austin Speed Shop. Joining the Speed Shop is not only a new business venture for Jesse; it also signifies a new life.
But Jesse is unsure if his crew at the Austin Speed Shop is able to handle the work load expected of a world class operation. So he challenges them with rebuilding a 1932 Ford Roadster in just weeks – a job that would normally last almost one year. The stakes are high for everyone as Jesse needs to get back to business and his crew knows it's their shot to join the big leagues.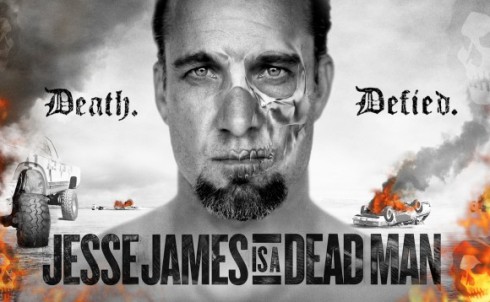 James' last series was the much-maligned Jesse James Is A Dead Man featuring the star doing all sort of ridiculous and dangerous stunts. "People like to see me build stuff," James tells TV Guide. "The further away from that concept I go, the less popular it is. Let's just go back to basics and build custom bikes and custom cars again."
He also says the guys at the Austin Speed Shop were a little reluctant about doing a reality show, and that's a good thing. "I like guys who don't want to be on TV," he says. "They just want to go to work and do a good job. We'll be a fly on the wall and cover what they do and get their honest feelings, not feed them a bunch of bulls–t. I think it's refreshing to see some of these kids. California and Hollywood brings a kind of pre-programmed state of mind, and Austin doesn't have that. It's real people — a little bit country and a little bit honest."
So what about the media frenzy surrounding his multiple affairs while married to Sandra Bullock? James says, "they're still chomping at the bit. It's a business, that's how they're making money. Everybody got their free shot; I stood there and took punches from everybody. And guess what, I'm still standing. I've shifted my life around full circle; it became all about my kids first and work second. Everything else is a distant third. For everything that happened, for me to come out way better than I was before is pretty awesome, I think."
He's hoping his recent appearance on "American Chopper: The Build-Off" against American Chopper stars Paul Teutel Jr. and Paul Teutel Sr. will remind fans what first attracted them to Jesse from his Monster Garage days. "I think everybody at Discovery and everybody that watches me on TV kind of forgot what a d–khead I am," he says. "How much I tell it like it is. I think they've only seen me on a tabloid level. I don't candy coat anything. You want an honest opinion, I'm going to give it to you."
The boastful James continues, "I think people really dug it, especially Discovery, because I brought a whole new popularity to the network, and they forgot, 'Oh yeah, that's what Jesse does here, he breaks records and melts down our website.'"
So what do you think? Will fans forgive Jesse and tune in? Could cheating with tattooed "Bombshells" and super hot pin-up girls actually be a benefit to a branded "outlaw" and renegade who builds custom motorcycles and automobiles?
"Jesse James: Outlaw Garage" airs on Discovery on Monday, April 9 at 10pm ET/PT.