Teen Mom OG star Farrah Abraham followed in the footsteps of Kim Kardashian on her way to becoming one of the top-searched people on the planet every year, and now it seems she is getting momager inspiration from Kris Jenner as she continues to push daughter Sophia into the spotlight, and into the headlines.
In her latest sure-to-be-ubiquitous momager move, the famously ornament-boobed Farrah shared this photo of her six-year-old daughter emulating her famous mother on SnapChat along with the caption, "Ornament boobs:"
Reactions to the photo seem to be split down the middle, with many folks pointing out that most all little girls do this sort of thing — whether it's pretending to have breasts or a pregnant belly or whatever. Others are lambasting Farrah for sharing the picture online and for her choice of captions.
The picture is just the latest in a string of Farrah's momager marketing moves. She just announced last week that Sophia has her own Instagram account, and prior to that Farrah has gotten people talking about Sophia by: waxing her "unibrow," giving her a large sum of money for her teeth, giving her a larger sum of money for her teeth, writing a children's book about pacifiers based on her, and launching a line of Mommy & Me beauty products with her — just to name a few.
So what do you think of the "ornament boobs" photo? Is it just a bit of innocent fun? Or is it inappropriate?
While you ponder that conundrum, be sure to head over to MTV.com and check out their post about Sophia titled "Sassy Sophia: These Are The Teen Mom OG Kiddo's Boldest Moments," which includes numerous memorable photos and animated gifs of Sophia like this one: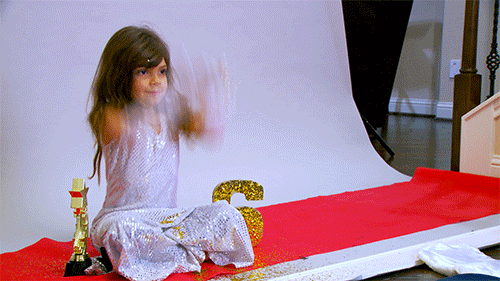 Sophia and the rest of the Teen Mom OGs return on Monday, January 4 at 10/9c on MTV. Click here to watch the official trailer, and here for another preview clip!