Jennifer Lawrence is the hottest celeb right now with the impending release of the film adaptation of Hunger Games. The young star was nominated for an Oscar last year for Winter's Bone, and has been used to doing indie flicks, but she's about to get a real taste of superstardom when everyone goes nuts of this movie (everyone's already going nuts, but wait 'til they actually see the film – it's probably gonna be bananas!)
Jennifer Lawrence has been stunning audiences around the globe with her breathtaking premiere outfits, so we put together a list off all her premiere week fashions.

Fun Fact: Jennifer reportedly asked the Hair and Makeup team to make her hair brown without the use of even temporary hair dye, so they spent $30,000 renting five $6000 brown lace wigs in different shades to get the color right. Jennifer didn't want to damage her naturally blonde hair by dying it brown, and then dying it back.
March 12, the L.A. premiere at the Nokia theater in a gold Prabal Gurung dress and Jimmy Choo shoes.
Jennifer Wednesday, March 14 at the O2 Arena in London, England wearing another gold gown, this one from the Ralph Lauren Collection.
Here's Jennifer March 16 at the Berlin premiere ON FIRE in a Marchesa gown with Giuseppe Zanotti heels and a Ferragamo clutch. The one of the best of the looks, for sure:

Jennifer wore this Prabal Gurung dress while appearing on The Late Show with David Letterman on Tuesday, March 20. The shoes are some of the absolutely most beautiful shoes I've ever seen! They're Jimmy Choos, and they're so pretty it hurts.
Jennifer in a va-va-voom Calvin Klein green dress at a signing at Barnes & Noble in NYC on March 21, 2012, and then at a Calvin Klein Collection screening. You can click here to see more of Jennifer's cleavage-baring dress.
Check out this really cool Collector's Edition Hunger Games book!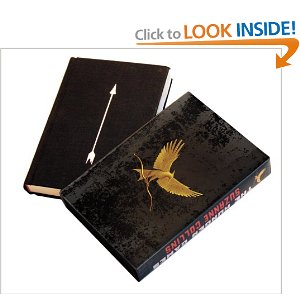 Click here to buy the entire Hunger Games books trilogy!