There may never be another documentary with a cast that has as many skeletons in their closets (or septic tanks) as the eccentric big cat owners and caretakers featured on Netflix's Tiger King. Joe Exotic and Carole Baskin have been researched extensively by other media outlets, as well as each other on social media over the years. I'm sure there is still more to "dig up" about both of them, but I thought I would start turning over some rocks in the (almost assuredly rented) backyard of Jeff Lowe, the shady Affliction brand poster man-boy who slithered into Joe Exotic's life and soon took ownership of the Garold Wayne Exotic Animal Memorial Park.
My initial goal was to compile all the interesting info I could find about Jeff into a single post that would essentially serve as a Jeff Lowe Wikipedia page. But, after multiple hours going down multiple online rabbit holes, it soon became clear that all of Jeff's antics during his 55+ years on this planet could not possibly be summarized in a single post. So, my goal is now to try to put it all together in just two parts. This is Part 1, covering Jeff's early life up until the time that he met Joe Exotic.
Jeffery Lee Lowe was born on November 16, 1964 near Lansing, Michigan to Janice and Jerry Lee Lowe. According to Jeff's bio on the Greater Wynnwood Zoo website, his grandfather "founded the Robbin's Brothers Circus in 1928." The circus was "later sold to Ringling Brothers where his Grandfather continued to work for years." In another interview, Jeff says that his grandfather trained big cats for Ringling Brothers, and as a result, he was around big cats throughout his childhood.
Circus history looks to be almost as sketchy as Jeff, including numerous circuses taking the names of previous ones simply because it was cheaper to use the same signage. There was a major player in the circus world named Fred Buchanan from Granger, Iowa who started a Robbins Brothers Circus in 1924. The circus industry fell victim to The Great Depression, and Fred Buchanan sold off his circus equipment "to an outfit in Lancaster, Mo." in 1930. The equipment looks to have been purchased later by Cole Brothers, who re-launched the Robbins Brothers Circus in 1938. Jess Adkins and Zack Terrell were the owners of Cole Brothers at the time, with Jess Adkins being in charge of the Robbins Brothers Circus.
The 1938 Robbins Brothers Circus recruited western movie star Hoot Gibson to headline their shows. Here is a photo posted by the Greater Wynnewood Exotic Animal Park Facebook page, which looks to be from 1938 or later as it mentions Hoot Gibson: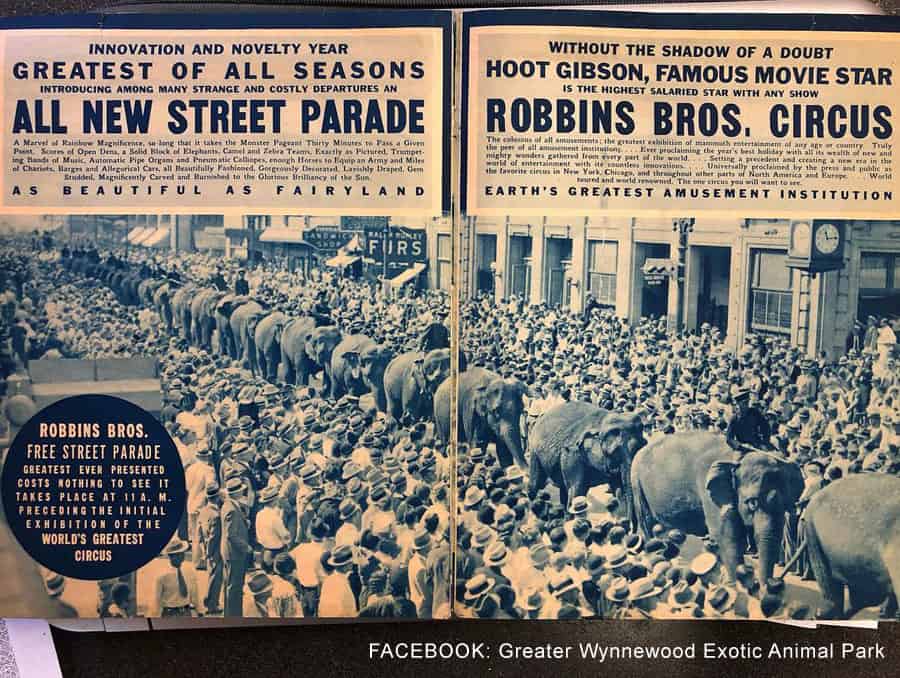 According to online genealogy records, Jeff Lowe's maternal grandfather is named Zion Robbins, so I assume he is the one that Jeff says founded the Robbins Brothers Circus. I could find no connection between Zion and a circus, but it could very well be that those records are not available online.
Jeff started his life-long career of making headlines for things that turned out to be untrue and/or greatly exaggerated at a very young age. When he was 19 months old, Jeff's mother called 911 after she believed he might have swallowed a staple. The story made it into the Lansing State Journal in 1966. Jeff was X-rayed and it was determined that he had not consumed the staple.
According to a yearbook from Lansing's Eastern High School, Jeff Lowe was a junior there in 1981. (That's his junior class photo above. He was listed in the index of the 1982 yearbook as Jeffery Lowe, but no photo.)
(Most of the information I found on Jeff's life in Michigan comes from a recent article by The Lansing State Journal that gathers together all of their old news articles that mentioned Jeff and his family when they lived near Lansing.)
In 1988, Jeff's 150-pound cougar named Rambo attacked a collie owned by a neighbor in Clinton County, Michigan. "He could have been let out or he could have busted out," Jeff said at the time. "He had always been very content to stay in that cage." Rambo was eventually shot and killed by the Clinton County Sheriff's Office in hopes that they would be able to save the dog's life. "I wanted to help their dog," Jeff told a reporter about giving police permission to shoot the cougar. "I'm not going to risk my life going into a locked garage with a potentially dangerous animal."
Jeff made the local newspaper again the following year after he was mauled by a friend's cougar that he was keeping in his basement. Jeff had invited some friends over to see Sadie, who was 3 years old and weighed 70 pounds. Jeff was holding Sadie by the collar as his friends left the basement when Sadie attacked. "She just turned on him and started biting him," Jeff's wife Kathy Lowe said afterward. 24-year-old Jeff later received 40 stitches.
It's unclear when Jeff and Kathy (Kathleen) were married. If I'm able to find a wedding date, I will update this post.
In the same year as his mauling, Jeff's 325-pound lion named Rajah got loose in Greenbush Township. The Clinton county Planning Commission later denied Jeff a special use permit that would allow him to keep Rajah at the Greenbush Township address.
In the early 1990s, Jeff relocated to another house on the southwest side of Lansing. Property records indicate he sold the property in 1998, which was when he relocated to South Carolina.
Jeff and his wife Kathy owned a flea market / liquidation retail business in Beaufort, South Carolina for many years. Just like pretty much every enterprise in Jeff's life, Beaufort Liquidations had numerous run-ins with the law, and with local government officials.
Jeff Lowe was indicted on four counts of fraud in 2007 after he allegedly "posed as an employee of Citizens Opposed to Domestic Abuse to get more than $1 million worth of goods for a fraction of their value," The Beaufort Gazette reports. The acquisitions occurred between 2003 and 2005, and the products were later sold by Jeff in his store(s). Jeff pleaded guilty to a single count of fraud in 2008. "Though the charges carry a maximum sentence of 20 years in prison and a fine of $250,000, Lowe was sentenced only to one year of probation," The Beaufort Gazette reveals. "He also agreed to make a $10,000 donation to CODA in lieu of a fine, according to court records."
In the same year that Jeff was indicted on the fraud counts, he was sued by musician Prince after allegedly using the singer's trademarked Love Symbol to try to sell items described as an "ultra rare wardrobe of stage worn clothes owned by superstar Prince." The items were available via the Beaufort Liquidators online spin-off called Club Returns, which no longer exists.
Jeff mentions in his wynnewoodzoo.org bio that he "went on to work with Robbie and Evel Knievel, as well as the musician Prince and several other famous faces." South Carolina attorney Dale Akins represented musician Prince in the 2007 lawsuit, and he recently spoke with Jay Boller of City Pages. "The thing about him working with Prince… I'm not gonna call him a liar, but based on any information I have, he never worked for Prince—unless you call getting sued working for him," Dale recalls.
The attorney later summed up pretty much all of my hours and hours of research into Jeff Lowe with a single sentence: "You can go ahead and quote me saying, in my opinion, he was a very sketchy individual."
Sometime around 2008, Jeff managed to Jeff Lowe himself into the life and business of daredevil Evel Knievel's son Robbie Knievel.
From Overdrive:
Lowe's association with [Evel] Knievel stems from a brief time working with him on a museum project that would have been in Gatlinburg, TN, which association led to a relationship to Evel Knievel's son Robbie, himself a well-known daredevil. "He wondered if I could help straighten up his career," Lowe says. Over years, "we took it from three to four shows a year to 13 to 14." During that time, too, Lowe worked to collect a lot of the Evel Knievel memorabilia in one spot in pursuit of the family's ideas to potentially "put together a museum and a sports bar."
Early articles cite Jeff as Robbie Knievel's business partner, but that soon changed to manager. A Google search for Jeff Lowe and Robbie Knievel turns up numerous articles about the pair working together through Robbie's professional daredevil career in the late 2000s and early 2010s. (If you actually do the Google search, I recommend you add -"tiger king" to filter out a lot of the recent posts.)
It wasn't long after inserting himself into Robbie Knievel's business that Jeff ran into some more legal troubles. In March of 2009, Jeff Lowe's company Big Sky Promotions applied for a trademark on "Evel Knievel" and "Knievel" in the UK, which didn't sit well with Evel Knievel's other son Kelly Knievel. Kelly is an officer for K and K Promotions, Inc., and they filed to stop the Big Sky trademark application claiming they already owned it.
As part of the suit, Robbie Knievel wrote a letter stating that "he represents the Knievel family and that he is executor of his father's will," but all of the Knievel family members who responded in the suit stated that was untrue. "Robbie Knievel made these alleged false statements at the request of a Jeff Lowe of Big [Sky]," the decision reads. "Kelly Knievel states that Mr Lowe is involved in criminal activities in the US and the filing of the UK trade mark applications by Big [Sky] is an extension of these activities into the UK." The judge sided against Robbie and Jeff, and they would eventually have to sign a licensing deal with K and K.
As far as Jeff's relationship with the Knievels, that seems to have ended up like most of Jeff's business partnerships. "One of Lowe's first high-profile jobs was managing daredevil motorcyclist Robbie Knievel, son of Evel (who has since called Lowe a 'fraud,' 'fake,' and a 'loser'), The Daily Beast stated in an exhaustive profile on Joe Exotic and other major Tiger King players.
Evel Knievel passed away in 2007, and shortly after, Jeff purchased the truck that Evel and his family toured in. The Mack haul rig was later used by Robbie Knievel during his stint as a daredevil in the early 1980s. Jeff got some exposure in 2012/2013 when American Trucker executive producer Robb Mariani tracked the truck down and the resulting restoration project was covered extensively in a series of videos. Here's one one of those videos that includes Jeff just after the one-minute mark:
The finished product is AMAZING:
That concludes this episode of Sketch King: A Profile of Jeff Lowe. Stay tuned for Part 2, which picks up with Jeff's failed attempt to merge his flea market with a big cat petting zoo, then moves on to his failed reality show pilot, his new wife, his multiple arrests, and his ill-fated relationship with Joe Exotic.
Asa Hawks is a writer and editor for Starcasm. You can contact Asa via Twitter, Facebook, or email at starcasmtips(at)yahoo.com