I haven't seen a single episode of The Catalina, the new reality series premiering tonight on The CW, but thanks to an aggressive bikini marketing campaign, I have to confess I'm intrigued 🙂 The show focuses on the (rather sexy) staff of Miami hotel The Catalina, most all of which have spent the last week wearing next to nothing and posing for photographers poolside and on the beaches of Miami.
In the photo above, 30-year-old cocktail server Denia "DeDe" Hall heats things up poolside in a green and white zig-zag patterned two-piece.
"The Venezuelan Dream" Karina d'Erizans, 26, was willing to wear next to nothinger than most as she let her Catalinas out of the bag for a topless photo in which her hands do all the upper body work usually reserved for a bikini top:
And speaking of letting the cat out of the bag, The Catalina's Kung Fu restaurant manager Morgan More unleashes her inner kitten in a bright cyan tiger stripe bikini:
We'll let 22-year-old Nancy Sayegh wrap this post up and cool us all down as she actually gets in the pool wearing her revealing mix-and-match green bikini bottoms and black top: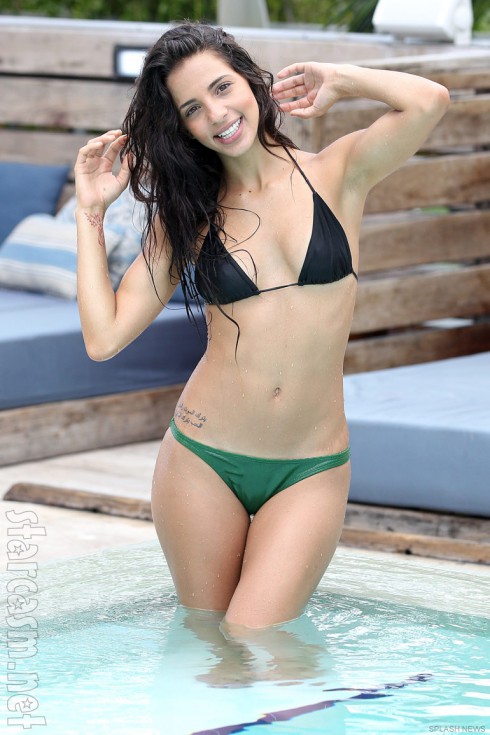 And in case you were wondering, here's a zoom on that hip tattoo: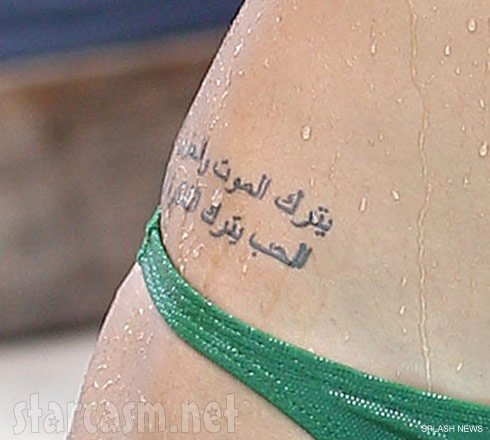 We have no idea what it says or means, but we'll ask Nancy on Twitter and update the post if we find out!
The Catalina premieres tonight (May 29) at 8/7c on The CW. CLICK HERE to watch the trailer and see more bikini photos of the cast, including the hotel general manager Stephanie Andron!
There are reports of some of the male cast getting down to their skivvies over the last week as well, but I wouldn't know anything about that 😉
Photos: Ralph Notaro / Splash News