Ever wondered what goes on at those luxurious resorts after hours? What do all those beautiful bartenders and waitresses and front desk clerks do once they clock out and the sun goes down? These are the questions that The CW hopes to answer for all of us with their reality series The Catalina which follows "the young, wild staff of The Catalina hotel in Miami's South Beach" and premieres May 29.
Check out the preview trailer in which it appears The Catalina is trying to be Jersey Shore meets Hotel Babylon – which isn't necessarily a bad thing.
Here's a synopsis of the show from The CW's website:
With a nightlife as hot as the sun-soaked beaches, the new reality series "The Catalina" centers on the young, wild staff of The Catalina hotel in Miami's South Beach. Forming their own dysfunctional family unit, the fun-loving group works hard during the day, while at night, they party even harder than their guests.
The show will follow the group as they manage their relationships with each other, while working hard to create a fun, exciting experience for the guests at the hotel. When the group works and parties together, drama always ensues. The two pool bartenders Nancy and Kris used to date and still have to work together – which causes jealousy when Kris flirts with fellow staff and hotel guests. Bartender David does his best to fit in with his fellow co-workers, while pool cocktail server DeDe often serves as the voice of reason with the group.
Kung Fu, the hotel's popular restaurant, is always bustling and restaurant general manager Morgan is all business as she tries to keep things flowing. Luckily, she has her best friend Eyal, who serves as the restaurant bartender, to keep her sane in times of stress. The front desk team consists of Vicky and Karina, best friends who love to stay after work and party at the hotel – where trouble always follows. Meanwhile, hotel owner Nathan and general manager Stephanie work to maintain order and keep the guests happy with their experience. All of this is just a day's work for the employees of "The Catalina."
If Jersey Shore taught us anything, it's that with reality programming things like concept and depth aren't all that important – all that matters with a show like this one is that the people are charismatic and entertaining to watch and the the show is filmed and edited well. Obviously, the jury will remain out until the show premieres on May 29 at 8/7c on The CW, but until then we can enjoy the eye candy of the female cast members posing on their home beach in red bikinis!

MALWINA MORGAN – I'm not sure what Malwina's job is at The Catalina, but I'm guessing it is something requiring customer interaction.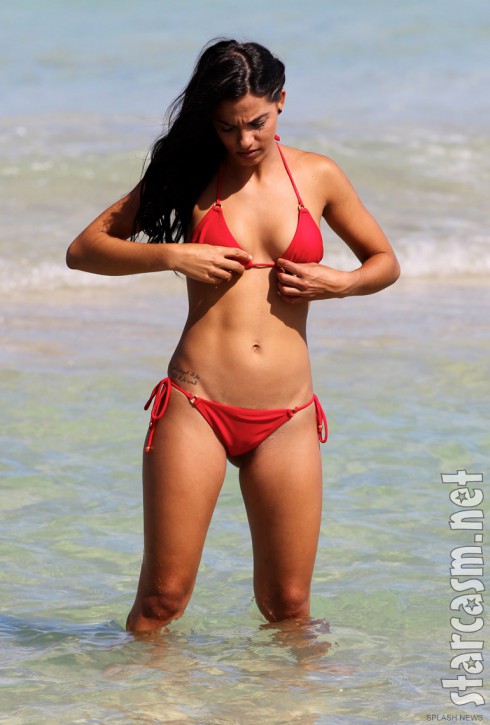 NANCY SAYEGH – Nancy is a bartender and looks like someone I would have no problems telling my troubles to! And just in case you're wondering if she looks as fantastic coming as she does going, here's a photo of her bartendadonk:


VICKY SERRA – Vicky makes up half of the sexiest front desk team in Miami, along with her bodacious bodded brunette beauty buddy Karina Derizans. (coming up next!)


KARINA DERIZANS – The other half of the Vicky/Derizand front desk dynamic duo! I sure wouldn't mind her checking me out 😉


STEPHANIE ANDRON – Hotel manager and HBIC! Just like Nancy above, we were lucky enough to get an additional shot of her Ste-fanny Andronkadonk. (Never enough booty references y'all!)
UPDATE – CLICK HERE for more bikini photos of The Catalina cast including Karina topless (SFW), another sexy shot of Nancy and her hip tattoo, and eye-popping pics of cocktail server Denia "DeDe" Hall and Kung Fu restaurant manager Morgan More!
The Catalina premieres on The CW on Tuesday, May 29 at 8/7c!
Photos: Pichichi / Splash News