Brandi Passante is one of the breakout stars of A&E's smash hit reality series Storage Wars, partly due to her charismatically cantankerous relationship with her husband partner Jarrod Schulz, and partly due to the fact that she is remarkably attractive, even when she's not surrounded by silver-backed gorillas and Darth Yuuuppers. But, despite all the fame (and numerous fan sites), Brandi has managed to keep her private life just that — private. For the most part.
Brandi has shared a couple family photos online, including this photo of her and Jarrod's 7-year-old daughter Payton playing on an iPad back in early June (when she was still 6 – her birthday was in late June):
Lucky Little Payton got one of the coolest Alice In Wonderland themed birthday cakes ever for her seventh birthday! Brandi tweeted a photo of the cake along with the words, "Happy Birthday sweet girl"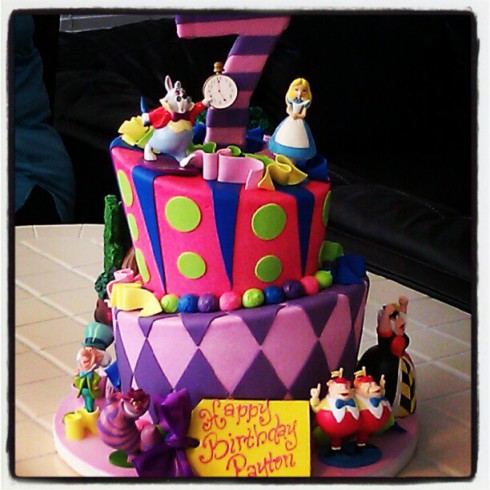 Jarrod and Brandi also have a son together, and I believe his name is Camren. He's Payton's older brother, but I'm not sure of his age. Here's a photo of Brandi Passante with both of her children at the Grand Opening of their Now & Then thrift store location in Long Beach:
Brandi has shared a couple photos of herself as a child as well. This one was taken with her Pa Paw:
She also shared this Christmas photo that would seem to suggest Brandi has an older sister (I assume that's her on our right – at least that looks like a little Brandi!)
(Whoever that is sitting next to Brandi, that is one seriously badass Pac-Man shirt!)
And here is a photo of Brandi Passante's mother, which she tweeted along with the caption, "This is my mom! Do you think we look alike?"
These photos are great, but there is a still a huge, mysterious gap in the Brandi Passante photo collection. There seems to be absolutely nothing between 1990 and 2005! C'mon high school gal pals or Brandi Passante college chums – share a little bit! Even just a high school yearbook photo would be good 🙂
Hmmmm… Maybe that Storage Wars "Summer Lockbuster" video wasn't such a spoof after all. Perhaps Brandi Passante was some sort of undercover Spy Kids type superstar for the CIA!