The MTV Video Music Awards red carpet has quite the history of outrageous looks, and Amber Rose cemented her place as part of that history this year by strutting the red carpet in a sizzling red leather lingerie look that included fishnet stockings, a Catwoman mask, a whip, and a Madonnamazing cone bra!
"I went to my stylist and I was like, 'I want to kind of look like an intergalactic space slut,'" Rose explained to Entertainment Tonight's Keltie Knight about her look. "And this is what he came up with, and I was really happy."
In addition to what I listed above, Amber's devilish ensemble also consisted of garters, thigh-high stiletto boots, elbow-length fingertipless gloves, and a thonged backside.
But why read a descriptive list when you can enjoy taking the thrilling visual journey yourself with more photos? Here's another single picture as well as a gallery of images from Getty: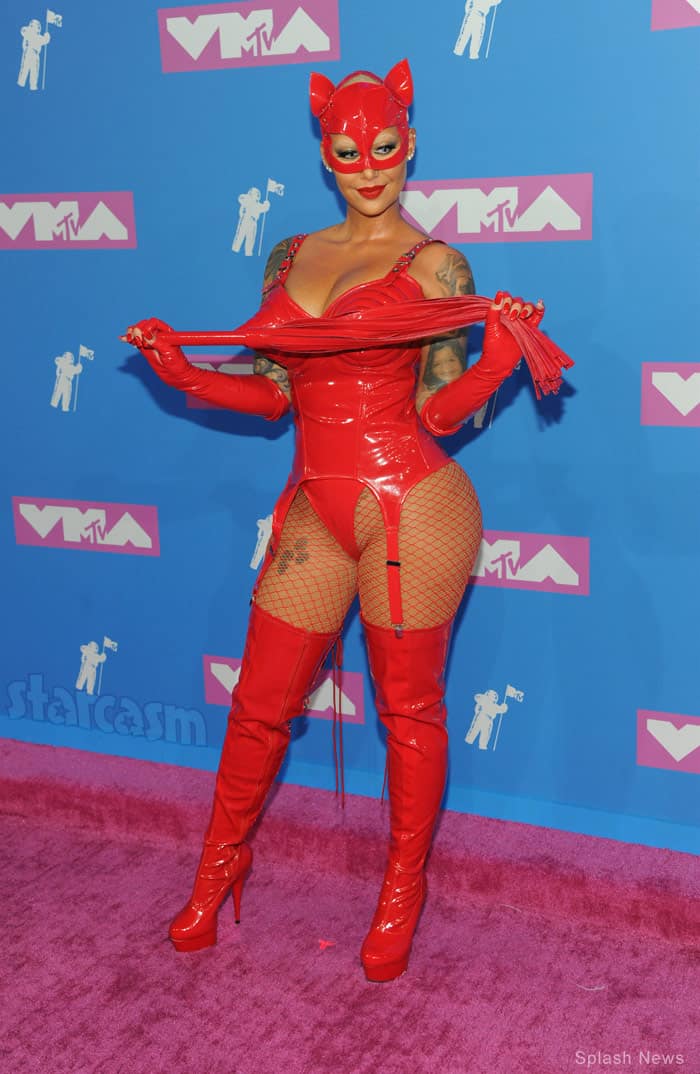 Amber Rose has long been a champion of combating the condemnation and demeaning of women based on their sexual behavior — perceived or actual. She famously led the very first S|utWalk in 2015, and continues to be one of the leading figures of the sexual positivity movement.
Asa Hawks is a writer and editor for Starcasm. You can contact Asa via Twitter, Facebook, or email at starcasmtips(at)yahoo.com