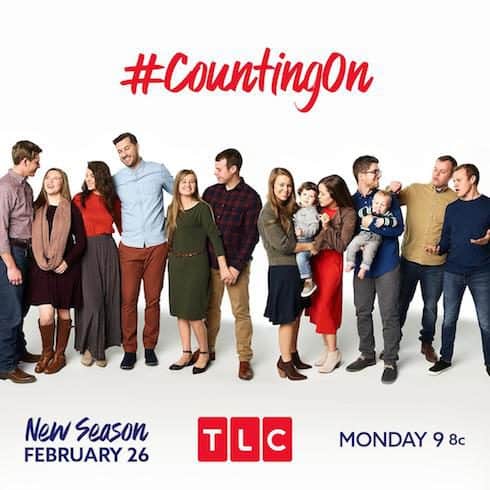 The photo above is one of several TLC just released in advance of Counting On Season 7, which premieres on February 26th. Notably absent from all the promo materials — all photos, the teaser trailer, and the network's official synopsis — is original cast member Jill Dillard. While we've known about her husband Derick's dismissal for months, was Jill Dillard fired from Counting On as well?
To be clear, Jill's seeming absence isn't a total shock, given the reason for Derick's firing. He got the boot last November in response to his continued attacks on the transgender community in general and on fellow TLC star Jazz Jennings in particular.
Shortly after that, Derick tried to change the narrative on Twitter, telling a fan that he actually hadn't been fired, but had quit "months" before TLC announced his firing. Derick also claimed he had severed his entire family's relationship with TLC, saying the Dillards were "heading in a different direction."
Given the fact that TLC made an official announcement that Derick had been fired and that Derick only countered that announcement once, in a tweeted response to a fan, rather than with a pinned tweet or Dillard Family Facebook message or other, higher-profile form, it seems safe to assume that the network's version of events is more accurate. If that's true, it seems at least possible that Derick forbade Jill from further participation with the show.
One thing we don't know, though, is whether Jill Dillard was still under contract with TLC at the time Derick was fired. And it's also worth pointing out that a later attack came from a Dillard Family social media account — rather than just one of Derick's — for the first time, meaning Jill may have been involved more directly.
To sum up, then: While it looks like Counting On Season 7 will be the show's first without either Jill or the Dillard family, we don't know about Jill Dillard fired or whether Derick's firing prompted him to pull the family back.
You can watch the Jill-less Counting On Season 7 trailer on TLC's site. (Embeds for the trailer are disabled and we haven't been able to find an alternate source, so, for now, we aren't able share it here.)
Additionally, here's TLC's official Counting On Season 7 synopsis, which is similarly Jill-free:
Joy and Austin's Honeymoon
Just married, the pair are flying off to Switzerland for a brand-new adventure! Alone for the first time, the pair are exploring everything Switzerland has to offer–like chocolate making, skiing, and even hang gliding.

Joe and Kendra's Wedding Prep
The two became engaged at Joy's wedding, meaning the Duggar family won't get a break from wedding planning anytime soon! And there is a lot to do in a very short amount of time.

Jinger and Jeremy's New Adventure
The couple are ready to put down their roots in Laredo–and that means buying their first home together! Duggar siblings to the rescue. The Arkansas family is headed down to help Jinger and Jeremy move into their new home, and decorate it to perfection.
On a related note, rumors about Anna Duggar making her return to reality TV with the new season of Counting On have been flying ever since Anna returned to Instagram out of the blue this week.
As for news of Jill Dillard fired, we've reached out to TLC and Figure 8 Films, Counting On's production company, and will update the post when / if we hear back.
(Photo credits: Jill Dillard fired via TLC)