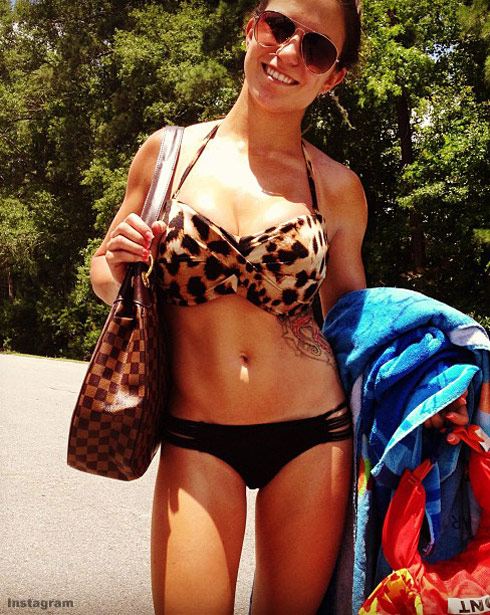 Shipping Wars is ready to start the long haul on its 4th season tonight and in celebration we thought we'd share the above photo of cast member Robbie Welsh in a bikini!
The businesswoman and mom to super-cute son Carter shared the above photo via her Instagram account on Saturday with the simple tag of " River days 🙂 "
Since Robbie was kind enough to share the candid pic of her Victoria's Secret swimsuit, and some serious ink btw, I figured I'd return the favor and help her promote her new line of clothing. Actually it only appears to be t-shirts so far but the lady is pretty darn good at promoting 'em! I'd have to guess that the delivery end of this business will be a little easier for Robbie and Christopher.
Here is the link to her new site for Loaded Apparel. And here's a recent photo posted by Robbie of her in a Loaded T (and not much else):
Via the site it says, "Loaded Apparel was created by Chris Hanna and Robbie Welsh from the television show Shipping Wars on A&E. The meaning of "Loaded" however, can be left up to you! Have a great day and stay loaded!"
Robbie, along with her man Christopher, Marc, Roy, Jennifer Brennan, and the rest of the cast come your way tonight on A&E at 10/9c. Here's one more parting shot of Robbie modeling her new Loaded Apparel clothing line: