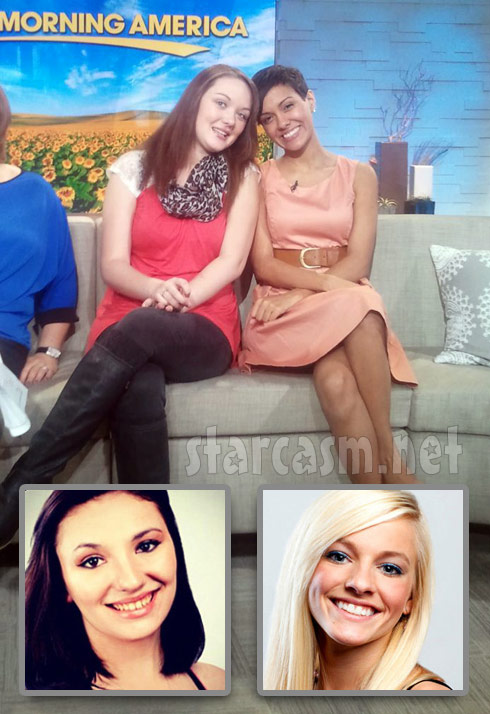 Although MTV has yet to announce the cast of the upcoming Teen Mom 3, we have a pretty good guess which four of the 16 & Pregnant girls have been chosen. As we've previously reported, the cast looks to include Mackenzie Douthit, Katie Yeager, Alex Sekella, and Briana Dejesus — all four of which have been dropping hints that they will be meeting up again soon!
Yesterday, Mackenzie spilled the beans, so to speak, when she tweeted, "I'm excited:) I havens see all your beautiful faces." Alex replied, "Belly and I can't wait to see all these cute babies we have one beautiful group of kids."
"Gannon is going to be the ladies man! Lol," noted Briana, to which Mackenzie replied, "I just realized he is the only boy! How lucky for him to get to see all those beautiful girls." While Katie didn't address their comments directly, she did re-tweet Briana's comment about Gannon being a ladies man.
Katie and Briana also exchanged a few clueful tweets back on September 21:
BRIANA: @Katiebyeager can't wait for u kno what! I've been having withdrawals lately loolllllolllll
KATIE: @BrianaDejesus_ I have big plans for us babes!! Better be ready to party.
At this point Briana tweeted something she meant to DM and quickly deleted it, but not before Katie responded:
KATIE: @BrianaDejesus_ yes I did 🙂 and I am right there with yeah! Eeeeeekkkk can't wait!
BRIANA: @Katiebyeager hahahahhahahaaaaai f***ed up with the tweet man
BRIANA: Lol I was suppose to send it as a dm -.-
It seems the gals have already mastered the art of saying stuff without actually saying stuff!
So, it appears the Teen Mom 3 cast (including the kiddies) are going to unite soon, and since they have reportedly been filming Teen Mom 3 for the last several months, it makes sense that they are meeting to film the Reunion Special – or perhaps the post-show interviews. Plus, none of the other 16 & Pregnant girls have mentioned any such meeting, so it's not a 16 & Pregnant season 4 update special.
The cast has pretty much been known for months, so it's odd that MTV hasn't made the official announcement yet. What could they possibly be waiting for? Who knows, maybe they'll announce it during tonight's Jersey Shore season 6 premiere. Or maybe next week's "Amber Behind Bars" special – theoretically the last last show for the original Teen Mom series.