On last week's episode of 90 Day Fiance, Anny and viewers got to meet Bryson's grandmother Stephanie. Grandma Stephanie shocked Anny (as well as most viewers) when she revealed that she has been a p0rn star for 15 years. So, what is Stephanie's adult film name, and is she really a "star" or just a woman who makes a few bucks for f***s now and then?
Stephanie's adult film name is Diamond Foxxx (or Diamond Foxx) and she is indeed a real deal p0rn star! Just Googling her name will turn up a seemingly endless list of results that include A LOT of not SFW images and videos — if you have safe search turned off.
According to her IMDB bio, Stephanie's comment on the show about starting in the adult film industry 15 years ago appears to be accurate as it states that she began in 2004.
Prior to getting a lot of bucks for her bangs, Stephanie followed in her military parents' footsteps by enlisting in the Navy! Her naval career was short-lived, however, as she was "discharged from the service because of 'sexual misconduct'" less than a year after joining.
Here are a couple photos of Stephanie from her Navy days posted on her Instagram account:
There's a bit of a gap in Stephanie's timeline given that she graduated Navy boot camp in 1994 and didn't become Diamond Foxxx until 2004. During that ten years, Stephanie married twice before relocating to Key West, Florida with her second husband. (I am guessing her second husband is Benjamin from the show, but that is not specifically stated in her bio. I don't know if Benjamin is in the adult industry, but her certainly has the surname for it! As a result, Diamond Foxxx's married name in real life is now Stephanie Woodcock.)
Stephanie's bio states that her decision to enter the adult film industry "came from a need to finance her career in real estate, which was her job prior to entering the entertainment business."
Born in January of 1973, Stephanie was already in her 30s when she made her adult film debut as part of a popular series of videos featuring sex between teachers and students. Her role as a TILF was well received, but shortly after her new career began, Stephanie "vanished from the business."
The hiatus was because Stephanie had been diagnosed with cervical cancer. "Once she recovered from the hysterectomy, she returned with stronger performance quality than before and described herself as a 'real sex-crazed M|LF,'" reads her bio.
Stephanie's enthusiasm is evident in her many, many, many videos in which she invites pretty much anything and everything into anywhere with fervor! Given her age, she often plays the part of M|LF or other similar "cougar" (aka over 29) roles like teacher, maid, neighbor, etc.
Here are just a few SFW title examples from her oeuvre:
Seduced by a Cougar 10, 16, 24 & 33
Mommy Blows Best
The Real Housewives of the San Fernando Valley
Cougars of Boobsville
The Mommy X-Perience
The Golden Girls (Parody as Blanche)
Moms Gone Wild 5
Fahrenheit 69
My Friend's Hot Mom 1, 19, 25 & 29
Here are a couple screen caps of some of Diamond's scenes before things get too foxxxy: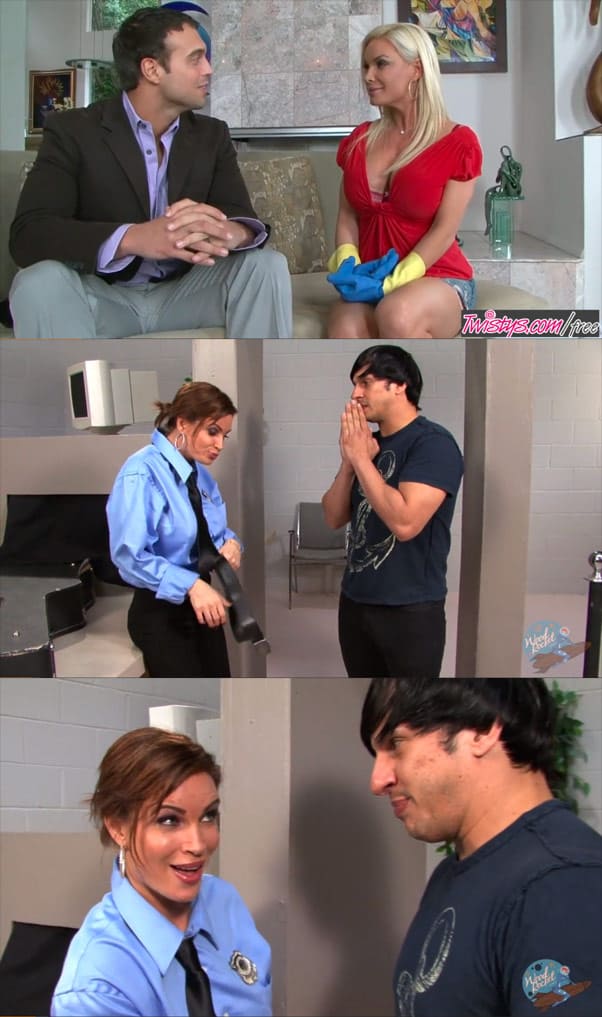 Having sex on camera and gatekeeping her grandson's potential stepmothers isn't all that Stephanie does though! She's an avid roller derby girl who goes by the name Anna Sassin:
Amazingly, it doesn't seem that Diamond has combined her two loves in a roller derby themed adult video — yet.
Stephanie has also been proactive in regards to trying to find a way to perpetuate her success in the adult film industry beyond making videos. There are numerous erotic novels written by a Diamond Foxx (which I assume is Stephanie) and she hosts a podcast called Milf and Cookies with her husband Benjamin and her friend Jason.
Here is the most recent episode of Milf and Cookies uploaded to Youtube:
In addition to an x-rated roller derby video, Stephanie might want to consider a 90 Day Fiance p0rn parody! Here are some potential titles:
Double D-ported
So Mahch Beautiful
I Want My Secks!
Green Card Hotties
90 Day Fiancees Go The Other Way
Colombian Calendar Photoshoot ?
Asa Hawks is a writer and editor for Starcasm. You can contact Asa via Twitter, Facebook, or email at starcasmtips(at)yahoo.com