The fifth season of MTV's ground-breaking docuseries 16 & Pregnant returns tonight after a nearly two-year absence, and the premiere episode will feature teen mom Madison "Maddy" Godsey from Tinley Park, Illinois. Maddy posted a photo on instagram earlier today featuring a DVD of her episode and later took to Facebook to answer questions fans may have after seeing it for themselves.
But, it wasn't just seeing her own episode that motivated Maddy to want to clear some things up — apparently her ex (and Aubrey's dad) Cody Jensen posted some negative comments about Maddy online, and Maddy wanted to be VERY CLEAR exactly what kind of dad Cody hasn't been.
Here is the post made by the now-brunette Maddy with a photo of her and Cody from happier times:
Before everyone sees the show, I just wanna point some things out so I don't seem like a HUGE bitch lol. It's hard to fit everything into an hour show so some things might have gotten cut out!
1. Cody was not around for the first 7 1/2 months of my pregnancy & we broke up because he was out partying & cheating Telling people he was only with me because of Aubrey
2. He does have a son that is 2 months older than Aubrey
3. I didn't give aubrey his last name because he hasn't shown me he deserved it, he wasn't around financially or emotionally for me or Aubrey
4. He hasn't asked about or seen Aubrey since she was 2 months old.
5. I didn't move in with him because he started calling me a s|ut & asked his other baby's mother to move in, too.
6. He did ask for a DNA test but I never refused. I told him he has to pay for it. Why should I pay when I know he's the father? He can use the child support I'm not getting
7. He said it isn't worth seeing her if he can't take her overnight. Yet, he has a pot plant growing in the backyard knowing that could get her taken away, she doesn't Even know who he is, & she's not getting in the car with someone who is uninsured. He used to tell me he needed medication to control his anger & when he didnt take it he would be mean. what if he snaps around aubrey? Also he used to do heroin so how do i know he isn't still?
Since he decided to post a status talking sh!t, I thought I'd set shit straight;) I have pictures of everything in case anyone wants to say I'm making it up;)
As we mentioned above, Maddy has abandoned her sure-to-be-famous dark and light hair color for a more consistently dark brunette 'do. She posted these side-by-side photos on instagram and talked about not only her hair transformation but also her life transformation since becoming a mom:
"#TranformationTuesday I gotta say, I love the right side way more. This little girl has changed everything for me. She made me grow up & gain so much maturity. I never thought I could love anything as much as I love her. This girl is my whole life."
And speaking of transformations, check out these dramatic side-by-side photos of Maddy pregnant and one taken less than six months after she gave birth to Aubrey: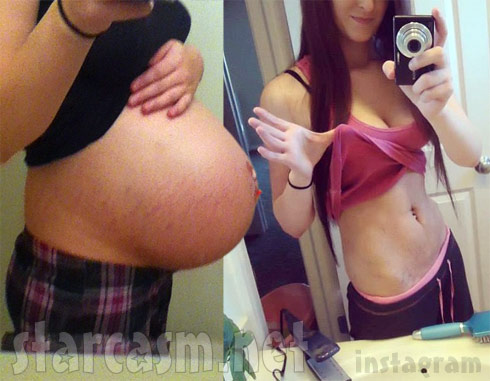 The human body is so amazing!
Maddy's episode of 16 & Pregnant airs tonight at 10/9c on MTV. Be sure to tune in because MTV usually uses some of their most dramatic episodes as premieres and finales! (Not to mention the fact that the premiere or finale treatment is usually a good indicator that the network might like the young mother's story enough to return to it on Teen Mom. I'm just sayin'!)
Click here to read our initial profile post about Maddy Godsey, here for her MTV preview trailer video, and here to read about how the Tinley Park, Illinois mayor went out of his way to prevent MTV from filming 16 & Pregnant on city property.