The cast of The Real Housewives of Orange County are no strangers to mudslinging, and three of the gals (with their better halves) took their skills from the figurative to the literal during the 2011 Del Mar Mud Run in Del Mar, California on Saturday.
Tamra Barney, Eddie Judge, Gretchen Rossi, Slade Smiley, newcomer Heather Dubrow, and her husband Terry Dubrow all took part in the 5k obstacle course at the Del Mar Fairgrounds to help raise money for the Challenged Athletes Foundation's® (CAF) Operation Rebound® program, which is "the premier sports and fitness program for American military personnel, veterans and first responders with permanent physical disabilities."
In addition to showing off their infamous mud-slinging abilities, some of the OC guys and gals were also able to show off their sense of humor by donning some team shirts with self-deprecating nicknames. Here's a list of what each wore during the run:
Tamra Barney – Cougar
Eddie Judge – Boy Toy
Ryan Vieth (Tamra's son) – Big Boy
Heather Dubrow – Fancy Pants
Terry Dubrow – Dr. 92660
As I mentioned earlier, new cast member Heather Dubrow was along for the fun, and from the looks of things she seems to getting along great with Tamra and Eddie! The two couples even joined hands as they crossed the finish line:
I've never been much for mus wrestling and all that – just not my thing – but I have to confess these ladies look great! And I have to give a special nod to newbie Heather who looked like she could have been the cover girl for Mud Maidens magazine!
Seriously, that there is a pretty woman! (Perhaps some kudos should go to her famous plastic surgeon husband, Dr. Terry Dubrow?)
CLICK HERE to find out all about actress Heather Dubrow and her reality show veteran hubby Terry!
And the cover model for Macho Mud Men magazine? Yummy "boy toy" Eddie Judge:
Slade Smiley seemed to be the most mud-friendly of the bunch as he was literally covered from head to toe as he ran alongside mud honey Gretchen Rossi: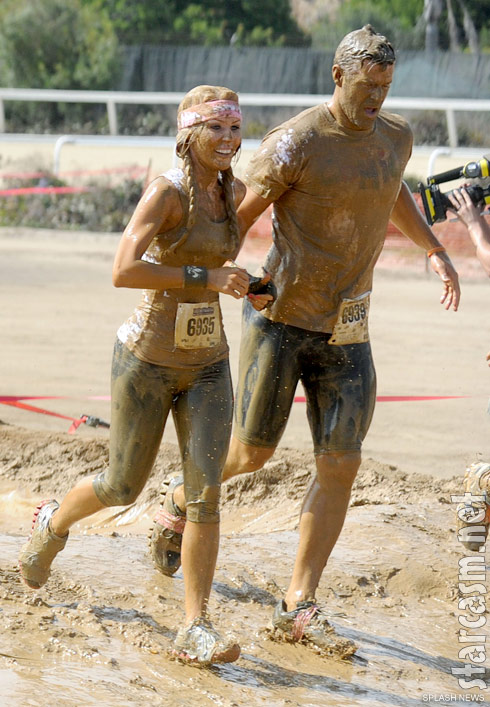 Although these photos brought me great joy (and I can't wait to see the episode featuring this event) I am greatly disappointed they weren't able to talk Alexis Bellino and hubby Jim Bellino to participate. Getting muddy's not a sin is it?
Photos: Splash News
UPDATE - I just found out the reason Gretchen and Slade weren't in the hand-holding foursome at the finish line is because Gretchen suffered an ankle injury and wasn't able to finish. Here's a pitiful photo of the hobbled star along with her accompanying tweet:
Couldn't finish mud run all the way cause I twisted my ankle man down!
Get well soon Gretchen Rossi! (Brandi Glanville has already demonstrated the severe disadvantage being on crutches can be for a Housewife!)
Bottom Photo: Twitter
Follow Us