Breaking Amish star Kate Stoltzfus (who now goes by just Kate Stoltz) continues to pull off one of the rarest feats in television history (America's Next Top Model not included) by appearing on a reality show and then becoming an actual, real deal professional model. In her latest shoot, Kate recreates supermodel Helena Christensen's iconic photos from Elle UK in 2010 with the help of photographer Jade Young.
Kate posted the topless photo above on instagram and captioned it, "Look #1 from my shoot aired today on #ExtraTv where we recreated iconic supermodel #HelenaChristensen's #ElleUK cover looks. Concept by @chrislanston wardrobe by @spiegel1865" She followed that with this next photo and wrote, "Look #2 from my shoot aired on #extratv where we recreated iconic supermodel #HelenaChristiansen's #elleuk cover looks concept by @chrislanston:"
Here's a behind-the-scenes video of the shoot from Extra TV that includes comments from Kate:
"Coming to New York really made me realize there are endless possibilities out there," Kate says. And don't think that by having success as a professional model is the only possibility Kate plans on exploring! "I have so many things left that I want to do," she reveals. One of those things that she has left to do is apparently a relationship. Due in part I'm sure to how focused she is on her professional life, Kate reveals that her personal life is still a little in limbo. "I'm currently single," she says of her current relationship status.
I'm guessing that as soon as Kate is able to find time to pursue a relationship (man or woman! 😉 ) that she won't have much difficulty. OK, now back to the photo shoot…
Here are some amazing side-by-side and stacked photos of Kate Stoltz and Helena Christensen in Elle for comparison:
Frequent Kate Stoltz employer Spiegel shared a montage of photos from the shoot on instagram as well as their congratulations to everyone involved. "Did you guys catch @extraTV last night featuring @kate_stoltz ?" the retailer wrote. "THIS was the shoot we were telling you about! How stunning does she look? (@chrislanston did an AMAZING job on her makeup!) #fashion #model #transformation" An appreciative Kate responded with the comment, "Thank you so much!! You did such a wonderful job with the wardrobe."
Spiegel Creative Director Richard Lowe shared a link to the Extra TV video on Facebook and wrote, "Check out our recent shoot with Kate Stoltz, which was featured on Extra tonight! The swimsuit by Spiegel can be found on Spiegel.com and the Custom Elle Cover Outfit was a true team effort by Nick Gaska and Ekaterina Murphy!"
Ah, but don't think the world of fashion and modeling is all glamor! Richard Lowe also shared this next humbling photo and revealed, "Sadly, it's not all fun and games, lol, this was me blowing up the kiddie pool for the water to land it in the last shot, HAHA!"
Kate responded to the pool photo with, "Haha that was amazing! Still impressed that you blew that up all by yourself." Richard responded with, "Me too….lol"
And here are a few amazing Kate screen caps from the video: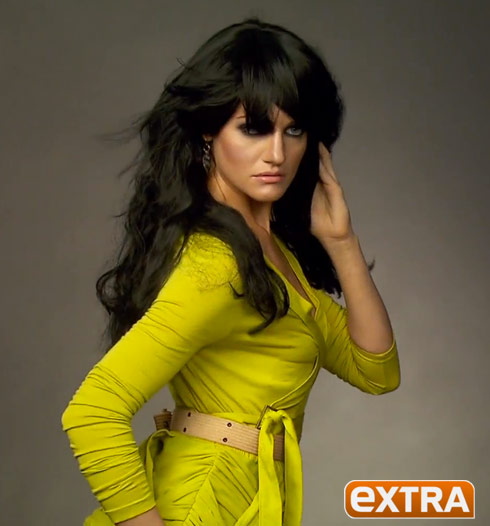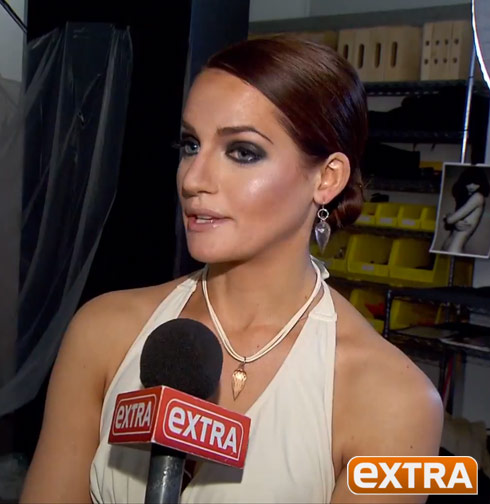 You can keep up with Kate Stoltz and her original Breaking Amish cast mates on Return To Amish, airing Sunday nights at 10/9c on TLC.