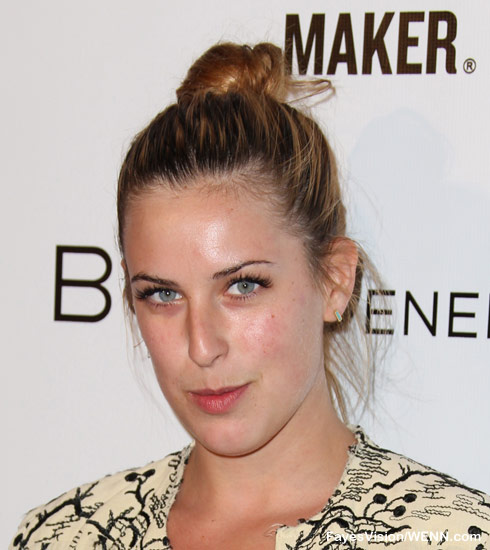 Scout Willis, the daughter of Bruce Willis and Demi Moore, has written a post explaining why she protested being banned from Instagram by walking around the streets of the NYC topless.
Scout shared a pic of herself in a revealing sheer top as well as a homemade jacket featuring the topless images of two females to the popular image sharing site. Instagram deleted her account for violating their community guidelines so she responded by strolling around with her breasts exposed and then sharing pics of her walkabout on Twitter.
There was a lot of doubt about Scout's motivations for the act so xoJane gave her a platform to explain herself.
She wrote in part:
I understand that people don't want to take me seriously. Or would rather just write me off as an attention-seeking, over-privileged, ignorant, white girl. I am white and I was born to a high profile and financially privileged family. I didn't choose my public life, but it did give me this platform. A platform that helps make body politics newsworthy.
She went on to explain how nipple inequality was a prime motivator for her protest:
There are also some people who would criticize my choice to relate nipples with equality at all. To me, nipples seem to be at the very heart of the issue. In the 1930s, men's nipples were just as provocative, shameful, and taboo as women's are now, and men were protesting in much the same way. In 1930, four men went topless to Coney Island and were arrested. In 1935, a flash mob of topless men descended upon Atlantic City, 42 of whom were arrested. Men fought and they were heard, changing not only laws but social consciousness. And by 1936, men's bare chests were accepted as the norm.
As far as her first point about people dismissing her because of her privileged background, you can certainly count Mob Wives star Drita D'avanzo in that camp. The outspoken New Yorker caught wind of Scout's protesting and shared her thoughts via Facebook:
This is not a topless protest. This is just a celebrity's daughter not getting enough attention as she would like and needs to somehow get some. If this is the only way to get everyone's attention then I feel sorry for her. Here's an idea. Your parent's are loaded. Take some of the money…use your last name for exposure and start an amazing charity!! Even if your intentions are just for your name and face to end up on page six. At least you are helping others!! Who cares why you are doing it….as long as you are doing it. One more thing. Make sure you don't walk into me and my daughter's on the street because you are most likely going to give me a hard time on making the right decision as a mom. I don't ever want to have to slap the sh*t out of someone in front of them. I have enough questions to answer for my actions on Mob Wives. Thanks.
Willis added, "I am humbled to be part of any action that's helped push the discussion of women's rights into the spotlight."