Selena Gomez went on quite the Instagram spree on Monday evening. Yet, somehow, it only made her followers even more confused about what's going on in her life these days.
Selena's series of posts began with an innocuous picture of a lake. She cryptically said in the caption, "Always said I was going to end up there, but I guess that's where it was meant to end."
Can't fault her there, because who doesn't like the lake? But, things took a turn for the dour a while later when she shared a vintage-filtered video of her playing the piano. She added, "I don't know. I'm on my way you know."
Next was an upside-down screenshot of some comments posted on the video. One of the visible messages said, "love you. don't let anything or anyone bring you down. you are worth it. we are here for you. it hurts us seeing you sad." Another begged, "Girl, LET HIM GO! It's a toxic…"
Selena added in the caption, "You are always listened to."
She seemed to continue her "you are always listened to" statement in her next caption, which said, "And usually always right." In that image, she seems to have wet hair and is partially pictured next to a palm tree.
For the grand finale in the Instagram show, Selena posted a screen capture from her text message conversation with an unknown friend who told her, "I just wanna give you a hug and remind you how special you are."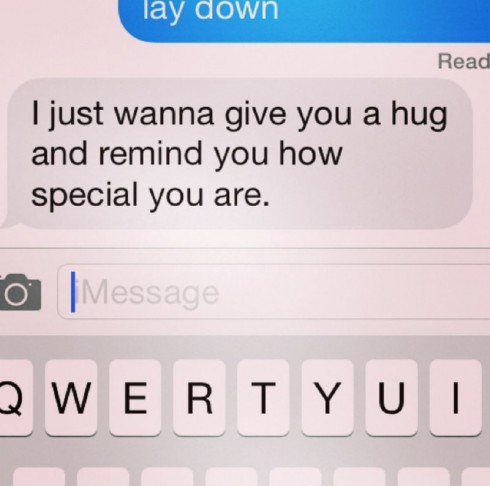 She captioned the picture, "That's who you wanna wake up to. #promise."
Justin Bieber, who is believed to be Selena's on-again boyfriend at the moment, posted a smiley face emoticon around the same time as Selena's final post — although it's unclear whether that was related.
Also of possible interest: After unfollowing everyone on Instagram earlier this year, Selena now only subscribes to the feeds for her clothing line (Dream Out Loud), Lorraine Schwartz, Olivier Rousteing and pastor TD Jakes.