Page 6 is reporting that Mob Wives cast members Karen Gravano and Drita D'avanzo did what Staten Island Mob Wives cast members do and got into a brawl during the taping of the season finale for the hit VH1 show.
If you're familiar with the show this incident at first glance would come as no surprise because scuffles are about as regular as a mani-pedi for these Big Apple broads.  And there is no love loss between Drita and Karen with D'avanzo being known for a short fuse. I mean D'avanzo told fellow cast member Graziano that she was gonna ring her fu**ing dumb tw*t neck in a previous confrontation.
Not too fast though, apparently this fight got so intense that it left Renee Graziano cut and bleeding!  Here's how the beat down went down downtown.
Crew was on hand as the ladies were filming the season finale of the show at the Rare View bar atop the Shelburne Hotel.  Drita and Karen got into it and had to be separated.  Security sent them down in separate elevators but the melee continued down in the lobby where security tossed the two ladies out of the hotel and into the street. During the fight Renee cut her leg on a bench. As of this post VH1 is not sure if they plan to air this melee because they are concerned about the well being of their cast.
Knowing what I've seen and the fact that this story was Facebooked by Drita I believe every word of it and also believe that the scene could be too much to televise. I hope that's not the case though. I was able to hunt down the following photo of The Rare View Bar to give you a taste of what the setting was like before Drita and Karen got busy: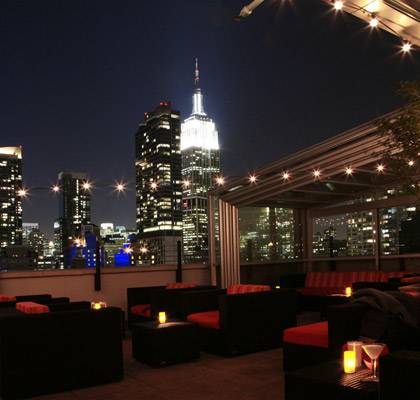 I got a feeling that VH1 is going to find a way to get this aired and it should be some serious entertainment when the finale comes around.
UPDATE: Thanks to "dude" for the heads up – I had Drita and Renee going at it because of Renee's injury but it was actually Karen!  Hard to keep up with who's beatin' who with these Mob Wives.  Man I hope Renee ain't freakin' p.o.'d at me – time to hide!