She may have her father's last name, but Dylan Penn totally has her mother's looks!
Posing for the January 2014 edition of GQ, the 22-year-old daughter of Sean Penn and Robin Wright explained when she realized she wanted to act (while watching Annie Hall when she was 10 or 11). But — let's be real — most people will just open the issue to look at Dylan's smoking body and smoldering gaze.
Dylan got her real taste of what life's like inside the Hollywood gossip machine earlier this year when she was rumored to be dating Robert Pattinson. Speaking with GQ, Dylan didn't mince her words when addressing those stories.
"We're talking about Rob here?," she said when the interviewer brought up the inevitable topic. "That's been very foreign to me. But actually kind of funny, because it's all bulls**t."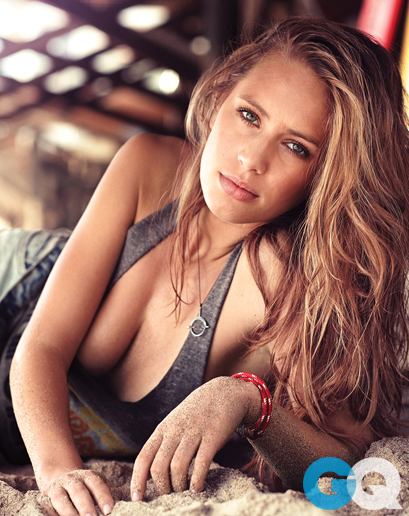 Even though Dylan's name is relatively new to tabloids, her parents have been making news for decades: Sean Penn is a two-time Academy Award winner who was married to Madonna in the 1980s before moving on to Robin Wright. Meanwhile, Robin is a Golden Globe-nominated actress who is perhaps best-known for her roles in Princess Bride and Forrest Gump.
Right now, Dylan doesn't have any film credits to her name — but is biding her time by working as a successful model. As E! News reported this morning, she just signed a nationwide campaign with Gap Outlet. Sounds like we'll be seeing more of Dylan!