Wednesday night A&E premieres its latest reality show venture Rodeo Girls starring a line up of easy-on-the-eyes female barrel racers as they navigate the professional rodeo circuit and all of its pitfalls — both in the rodeo ring and out. As is the case any time a preview trailer for a reality show features cast members in bikinis having a good time (Heaven forbid), there has been a pre-airing backlash against Rodeo Girls from some purists who insist the show isn't an accurate portrayal of successful, hard-working rodeo girls, with suggestions that the women on the show aren't even "real" professional rodeo girls. So, I did a little research to see just how accurate these accusations are.
First, I think it's important to explain the origins of the show. Darcy LaPier has a headline-grabbing past that includes marriages to Hawaiian Tropic head honcho Ron Rice, actor Jean-Claude Van Damme and Herbalife founder Mark Hughes, the latter of which died tragically shortly after marrying Darcy from a toxic combination of alcohol and Doxepin in 1999.
After Hughes death, Darcy (seen horseback above) moved back to her home state of Oregon where she bought a ranch and eventually became captivated by horses and the barrel-racing ladies she'd see at the rodeo. Darcy began barrel racing in 2004 and later that year she took home the honor of NPRA Rookie of the Year. Since that time Darcy LaPier has continued barrel racing professionally and continued being a huge fan of the sport as well.
A few years ago Darcy was at Disneyland with her son innocently reading rodeo magazines when a producer for Ryan Seacrest approached her and the two began talking about her passion for the sport. "He said that they should do a show about me and the rodeo, but I didn't really take it to heart," Darcy told MomLogic.com in an interview. "So, we get back to L.A. a week later, and he invited me down to see him. I brought my book of rodeo photos and met everyone there. Everyone was excited, but they realized that they would have to shoot up here at the rodeos, and they don't have the budget to shoot outside of California. This was right after Christmas — and the economy started tanking."
Darcy thought that was the end of that, but she later received a call from another producer interested in the concept and Rodeo Girls was born.
I assume at some point Darcy worked with producers on putting a cast together, and of course they would be looking for attractive women — this is reality TV after all! So, in addition to Darcy LaPier, the show went with two established professional barrel racers (Barb West and Marvel Murphy) as well as two "rookie" up-and-comers looking to break into the professional rodeo circuit (Megan Etcheberry and Jessica Holmberg).
Here's a little on the barrel-racing pedigrees of Barb and Marvel:
BARB WEST
A card-holding barrel racer since 2001, Barb West wears her buckles and drives her prized Dodge truck with pride!
Known by her competitors and friends as "Wicked" West for her wicked horsemanship in and out of the arena, Barb is the 2009 Dodge National Circuit Finals Rodeo (DNCFR) Champion, a Columbia River Circuit Final Champion, and a world record breaker for her '16.735' timed run in 2007 at the Brn4d Final 1D Championship – all titles that she proudly shares with her now retired riding partner, Scottie Too Hottie aka 'Scottie'.
(source: www.barb-west.com)
MARVEL MURPHY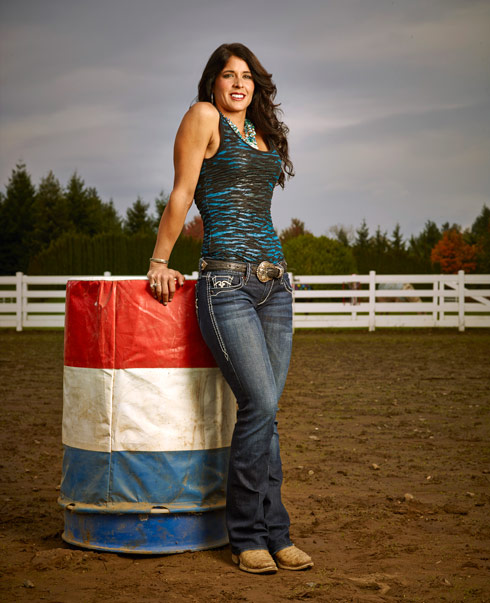 "Marvelous Marv" can't remember a time when she wasn't riding horses.
As a three-time Nevada State High School All-Around Champion Cowgirl, this Reno native won herself a rodeo scholarship to Texas Tech University. She's been a card-holding pro since 1996 and is a fierce competitor and a top rider.
Marvel has ranked among the WPRA top 50 and has been a circuit qualifier. Throughout her rodeo career, Marv has won 3 horse trailers, a $5,000 check and a trailer worth $20,000.
(source: A&E)
Doing a little research on wpra.com I found that Marvel Murphy was ranked 65th in the final 2012 WPRA Tour Standings and currently ranks 315th in the 2013 standings.
Barb West, who is returning to the circuit after a few years away, ranked 26th in the 2008 WPRA World Standings and currently ranks 164th on the 2013 WPRA World pro rodeo standings.
Meanwhile, a I mentioned previously, Megan Etcheberry (seen above) and Jessica Holmberg (below) are relatively new to the professional barrel racing circuit, and as a result, don't show up in the 2013 rankings. That being said, both young ladies are quite familiar with barrel racing, with Jessica having quite the pre-professional resume. From A&E:
Although she's new to the professional arena, Jessica's no stranger to the rodeo life. Barrel racing since she was nine years old, Jessica was a National High School Rodeo qualifier, and has ranked in the Top 15 Open and Youth Barrel Racing standings. In 2009, Jessica broke the record at the Trails End arena on Olympia, Washington.
So, the answer to the question "Are the Rodeo Girls real professional barrel racers?" is yes — and a little bit of no. Barb, Marvel and even Darcy have quite the proven track record, but clearly Megan and Jessica aren't seasoned professionals. The VERY important thing to remember is that A&E is very up front about the professional experience (or lack thereof in the case of Megan and Jessica) for all of the cast members. Actually, the fact that Megan and Jessica are trying to break in to the professional rodeo circuit is a huge part of the narrative of Rodeo Girls — and I can't imagine that the show will demonstrate anything other than attaining success as a professional barrel racer is hard as hell.
Another important thing to remember is that this isn't a documentary about barrel racing, it is a reality show about barrel racers — more specifically, barrel racers Darcy LaPier, Barb West, Marvel Murphy, Megan Etcheberry and Jessica Holmberg. Sure, the show will have serious elements (I assume) as it tries to convey what life is like for real deal pro barrel racers, but in the end the show's main goal is to entertain and to keep viewers tuning in each and every week. So of course when the gals aren't on horseback they are going to have a few drinks, date a few guys, wear a few bikinis and otherwise be relatable (and attractive) to the non-barrel-racing viewership out there. I know I'm excited to tune in for all of it!
Rodeo Girls premieres on A&E Wednesday, December 11 at 11/10c just after the Duck Dynasty Christmas Special and will then air another new episode the next night, Thursday, December 12 at 10/9c. After that new episodes will air weekly on Thursday nights at 10/9c.
Here's the preview trailer: