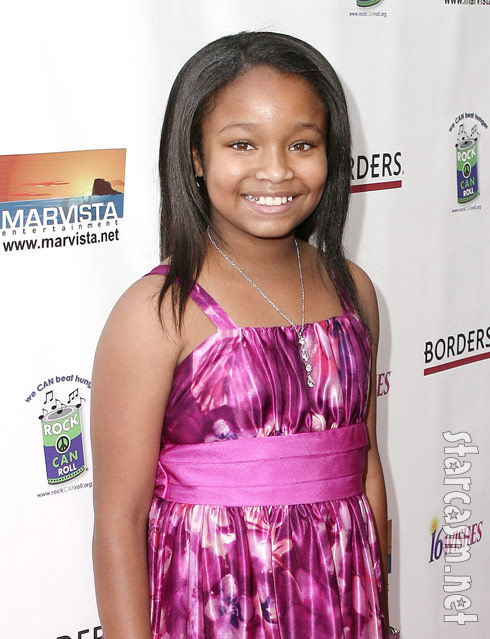 I think Kiara Muhammad, the voice actor for Disney's popular new Doc McStuffins, may be cuter than her animated character!
Disney has spread some more animated magic across the TV landscape as their show Doc McStuffins is now the most popular preschool TV series for girls ages 3-5. I've got a 4-year-old girl and she loves her some Dottie, and she especially loves her some nurse Hallie!
Here's the premise of the show:
The series chronicles a six-year-old African- American girl named Dottie McStuffins who, one day, wants to become a doctor like her mother. As a kid, she "pretends" to be a doctor by fixing up toys and dolls(because of this, everyone calls her 'Doc'). When she puts on her stethoscope, something magical happens: toys, dolls and stuffed animals come to life and she can communicate with them.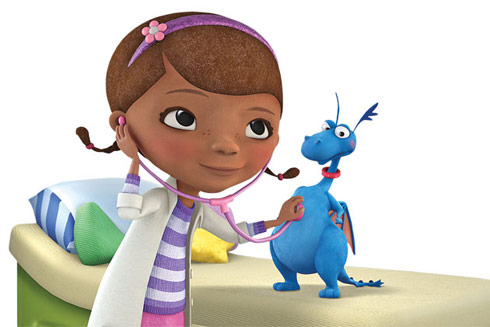 With a little help from her stuffed animal friends, Stuffy, Hallie, Lambie and Chilly, Doc helps toys "feel better" by giving them check-ups. Each 11-minute episode includes original songs, the "Time for your Check-up" song and the "I Feel Better" song. During ending credits, Doc gives advice to viewers about staying healthy.
The voice behind the aspiring young doctor is the mutli-talented Kiara Muhammad. Here's Kiara's bio from her official website:
Kiara Muhammad, known as "Fufu" by her friends and family was born on December 16, 1998.  Before she could talk her parents recognized her electric and unique personality, which is how her father began calling her "Fufu".  Having no real rhyme or reason for the nickname, it just seemed like the perfect fit for her lively and expressive character.

At the age of three Kiara's personality really came to life when she began mimicking actors and dancers on television. This personality continued to flourish and took additional shape at the age of seven when her family moved from Boston to New York City (Brooklyn). She auditioned for her first supporting role with the theatre program at her new public school. Without any former training, Kiara was cast as the role of "Fern" in Charlotte's Web. It was quickly discovered by her teachers and parents that she was a natural born actress, singer and dancer.
With the support of her parents, some intensive actor training/coaching, a great agent and a timely move cross country to Los Angeles major studios began to take notice of Kiara's blossoming skill set.

Labeled a triple threat, Kiara's gift for acting combined with her ability to take direction well have in a short period of time landed her a couple of huge auditions with Disney Channel. The first Disney audition led to a "screen test" for a Disney Pilot. The second audition resulted in her being cast in a supporting role in a new Disney Channel original movie.  Kiara has also landed a guest role on the Disney hit show "Hannah Montana", multiple national commercials and several print jobs for Ebony and Reebok.

Having family across the U.S., Kiara has traveled and spent time in different cities allowing her to perfect a number of accents including Southern, New York and New England to name a few favorites.  In addition to her love of acting and dancing, Kiara has begun recording her first album with the help of her dad, uncle and a multi-platinum producer who has taken an interest in her voice and musical talents. Kiara is an honor roll student, also enjoys tennis, basketball and bowling, as much as staying on top of the latest fashion trends.
As that write-up and her IMDB profile indicates Kiara has already had plenty of experience and the success of Doc should open many more doors for her. Here are a few videos featuring Kiara:
Kiara Muhammad's Demo Reel:
Kiara talking about her exciting opportunity to voice Doc:
And my personal favorite, a random commercial appearance for Yoplait:
Good luck to Kiara on her future endeavors in entertainment. Well I gotta run, my little one wants to watch another episode of Doc McStuffins!
Top Photo: Kristen Noseda/WENN.com