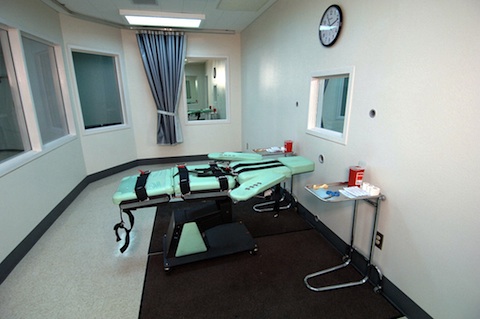 The execution chamber at San Quentin State Prison in California. Thirty-four U.S. states use lethal injection solely or primarily.
Authorities in Arizona are under fire for fouling up the lethal injection of Joseph R. Wood III, who gasped and strained during the nearly two hours it took him to die.
The execution began at 1:52 PM Wednesday, after the Supreme Court overturned the stay of execution that the Federal Court of Appeals granted last week.
Execution by lethal injection generally takes ten to fifteen minutes. But, according to numerous witnesses and Dale Baich, one of Mr. Wood's federal defenders, the process dragged on inexorably, as Wood continued to choke and gasp.
One Associated Press reporter who witnessed the execution said Mr. Wood gasped nearly 600 times during the ordeal.
Notably, state officials denied that anything about the punishment was cruel or unusual, despite reports to the contrary. Arizona Governor Jan Brewer, in a prepared statement, said:
One thing is certain, however, inmate Wood died in a lawful manner and by eyewitness and medical accounts he did not suffer. This is in stark comparison to the gruesome, vicious suffering that he inflicted on his two victims—and the lifetime of suffering he has caused their family.
And Stephanie Grisham, a spokeswoman for the Arizona attorney general who was also a witness, said, "I can tell you, he was snoring. There was zero gasping or snorting, and that's just the truth. He was asleep."
Arizona's controversial execution follows another difficult procedure in the state of Oklahoma this past spring.
In that case, Clayton D. Lockett's execution took longer than normal because of an improperly placed catheter. Instead of receiving a lethal dose of a heart-stopping drug, he received a partial dose, and was only partially sedated beforehand.
Lethal injection is the most common method of execution in the United States. But many states that practice the death penalty have had to search for alternate means, as the supply of generally-used barbiturates has decreased dramatically in recent years.
Mr. Wood had been sentenced to death for two murders he committed in 1989.