Britney Spears seems to have put her "crazy days" behind her, but unfortunately she can't seem to get rid of Sam Luftii. Her former manager is currently suing her for defamation of character, and in the documents recently filed as part of the upcoming trial against her, he dropped a huge bomb!
In the documents, not only does Sam claim that Britney told him that her father (who is currently in charge of her estate along with her fiance Jason Trawick) is a "violent racist" and an abusive alcoholic, he also alleges that crystal meth was once found in the pop star/X-Factor judge's home.
According to TMZ, the documents allege that Sam "brought drug-sniffing dogs into her home … and they found a cache of crystal methedrine, which was destroyed. "Britney should further testify that drug dogs found 'hot spots of drug residue in the carpeting, where her young sons [ages 1 and 3] played during visits."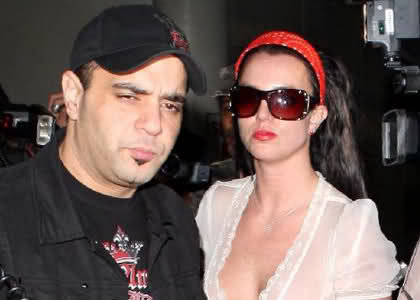 Sam (seen above with Britney Spears) claims that he helped to cover the findings up by first shampooing the carpet and later getting rid of it all together.
Briney, along with her parents Lynne and Jamie, had previously claimed that Sam was responsible for Britney's crazy days, and even that he drugged the singer. This of course led to the lawsuit at hand.
Regardless of the claims Sam is making, there's one major problem: Britney can not legally testify because according to her conservatorship, she's not mentally capable. The documents recently filed by Lufti were an attempt to explain why she should testify during the trial
So far, Britney's camp has not responded for comment on Sam's meth accusations.