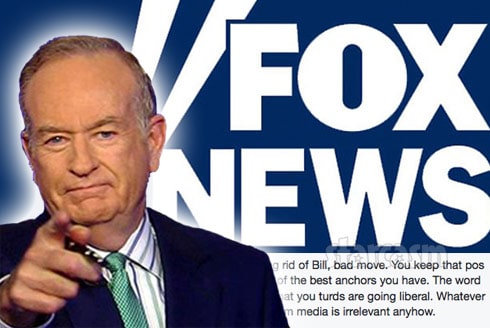 Viewers of Fox News are taking to social media to express outrage over the announced ouster of their most popular host.
In a surprising move from the network it was revealed today that Bill O'Reilly will not be returning as host of the ratings machine that has been The O'Reilly Factor. The statement read, "After a thorough and careful review of the allegations, the Company and Bill O'Reilly have agreed that Bill O'Reilly will not be returning to the Fox News Channel."
The news, which comes after the New York Times revealed that O'Reilly and Fox had reached settlements totaling $13 million with five women who had accused O'Reilly of sexual harassment or verbal abuse, is not being received well by the host's legions of fans.
Supporters of O'Reilly are chiming in on any stories shared by the fair and balanced network to express their frustration with the decision:

BRING BACK BILL OREILLY. THE LIBS AT FOX ARE FIRING HIM FOR MORE
LIBERALISM. @FOXNEWS…POOR DECISION https://t.co/5r91kaqdrf

— GAIL FREIDENRICH (@LARGESSE9826) April 19, 2017

Over 60 advertisers removed their spots from the show in the wake of the settlements report from the the Times.
While the host has been silent so far, one of his attorneys indicated that a statement is forthcoming.
UPDATE: O'Reilly released the following statement:
"Over the past 20 years at Fox News, I have been extremely proud to launch and lead one of the most successful news programs in history… It is tremendously disheartening that we part ways due to completely unfounded claims. But that is the unfortunate reality many of us in the public eye must live with today. I will always look back on my time at Fox with great pride in the unprecedented success we achieved and with my deepest gratitude to all my dedicated viewers. I wish only the best for Fox News Channel."