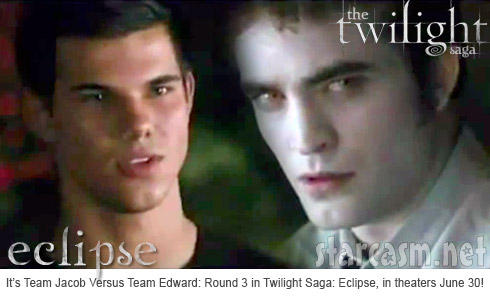 The Twilight movie factory is still going full steam! The third installment of the tween-into-green vampire franchise Twilight: Eclipse hits US theaters on June 30 and today Summit Entertainment released the second official trailer on Oprah.com. But don't worry, 850 bazillion Twilight fans have already uploaded it to Youtube, including this high definition version:
So whatcha think Twilight fans?!? It looks like there is an epic, Braveheartesque scale battle between the wolves and the vamps – you gotta love that! The ultimate Team Jacob vs. Team Edward confrontation! Oooooooo – and lots more of the Jacob/Edward/Bella Werewolf/Vampire/Human love triagleage!
I am boldly predicting this film will be a big success at the box office!
(CLICK HERE to see our exclusive homemade Twilight: Eclipse poster from what seems like three years ago and CLICK HERE to see a photo gallery featuring hot new Twilight heart-throb Xavier Samuel!)