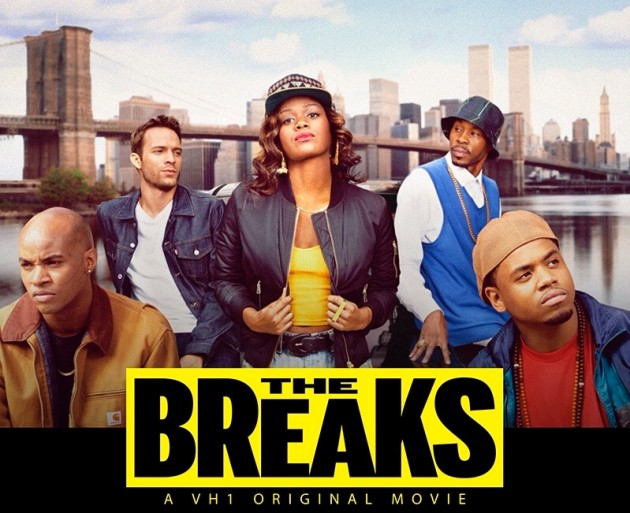 VH1 has just announced that it's hugely successful original movie The Breaks, which documents the rise of hip hop in the 1990s through three young friends in New York City, will be a full-fledged series premiering later this year.
"The Breaks is VH1 at its best, intersecting '90s nostalgia with hip hop for the masses," said Chris McCarthy, General Manager of VH1. "Both the viewers and critics have spoken, and we couldn't be happier to continue telling the story that has already connected with millions of pop culture fans."
The movie, which drew in 2.6 million viewers when it premiered January 4, was inspired by the book The Big Payback: The History of the Business of Hip-Hop, a narrative history of the hip hop industry written by journalist Dan Charnas. The Breaks film was written, directed and executive produced by Seith Mann (The Wire, The Walking Dead, Homeland) with a story by Mann and Charnas. It is unknown if Seith Mann will write or direct any of the series episodes, but he has signed on as executive producer alongside Dan Charnas, Bill Flanagan, and Maggie Malina.
It has also not officially been revealed which actors will be reprising their roles for the series. But, judging from the tweets and retweets from the three main stars (Afton Williamson, Antoine Harris, Mack Tristan Wilds) they will all be back:
Ask and Ye Shall RECIEVE?? #blessingsonblessings @vh1 let's go get em!! @TheBreaksVH1 @gatelife @dancharnas https://t.co/objxwwmiSb

— Afton Williamson (@therealaftonw) February 16, 2016
Thankyou to Every single soul that watched and supported #thebreaks we appreciate you guys. This is because of yall. https://t.co/DrzuzGowjn

— Antoine Harris (@ImAntoineHarris) February 16, 2016
crazy ass day, ain't it? #AllPraisesDueToTheMostHigh. https://t.co/5oXUmsjBiX

— Mack™ (@MACKWILDS) February 17, 2016
If you missed the movie on VH1, you can watch it online as long as you have your cable provider log in info handy. And you can keep up with news about the series by liking the official The Breaks Facebook page.